Conveyors & Conveyor Systems for sale direct from leading UK conveyor manufacturer
Conveyors designed & manufactured for all spaces and applications
We produce a wide range of versatile and robust conveyors to suit any project from stand-alone conveyor belts to complete bespoke conveyor systems.
In many cases we deal directly with end-users offering a complete turnkey solution. We also provide a white-label service when working with resellers and system integrators.
As such we are the ideal partner for your materials handling automation. We produce efficient, and also reliable conveyors delivering you savings in time and effort, whilst increasing safety.
We also design & manufacture workbenches to order, as well as workstations with integrated ball transfer and roller options to create ergonomic conveyor workstations for assembly and manufacturing applications.
We offer a full service through 3D design, conveyor manufacture, installation, and after-sales support and servicing. Please see below for an overview of our product range, and contact sales if you have any enquiries.
Phone: 01482 363445
Email: sales@spaceguard.co.uk
Conveyors for any project
E-commerce & Warehouse Conveyor Systems
Our team have experience in building automation systems for a variety of areas.
This includes assembly, logistics, packaging industries, warehouses, and also fulfilment and distribution centres.
In addition, we provide solutions suited to food pack houses and process lines, bespoke electronic assembly cells, and simple end-of-line conveyors.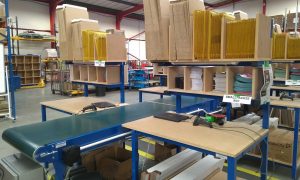 Food Production & Pharmaceuticals Conveyors
Spaceguard manufactures food production conveying solutions for transporting, washing, inspecting, or drying products.
Stainless steel conveyors are hygienic and suitable for use in food & pharmaceutical environments.
We offer a range of options for food-safe belting, modular plastic belts or quick release belts which allow for easy cleaning.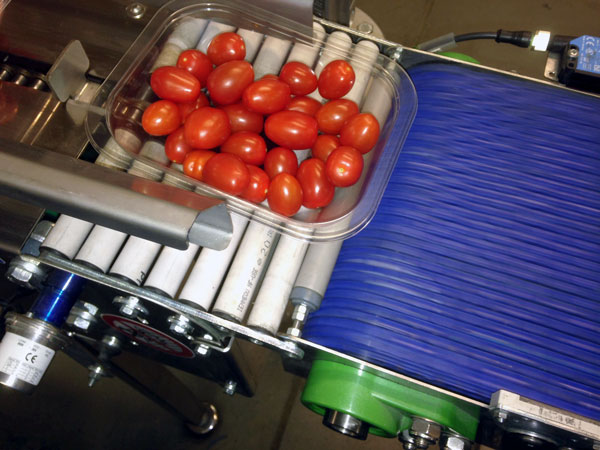 Cost-Effective Conveyor System Expansion & Modification
Our on-site team has experience in modifying and installing conveyors and automation equipment to suit a wide variety of environments.
Often there are peaks and troughs in e-commerce and manufacturing environments where your conveyor system will need modifying or require an expansion.
We can also integrate our range into existing production lines or assembly cells.
We will always work with you to ensure a successful installation with absolutely minimal impact on your ongoing operations.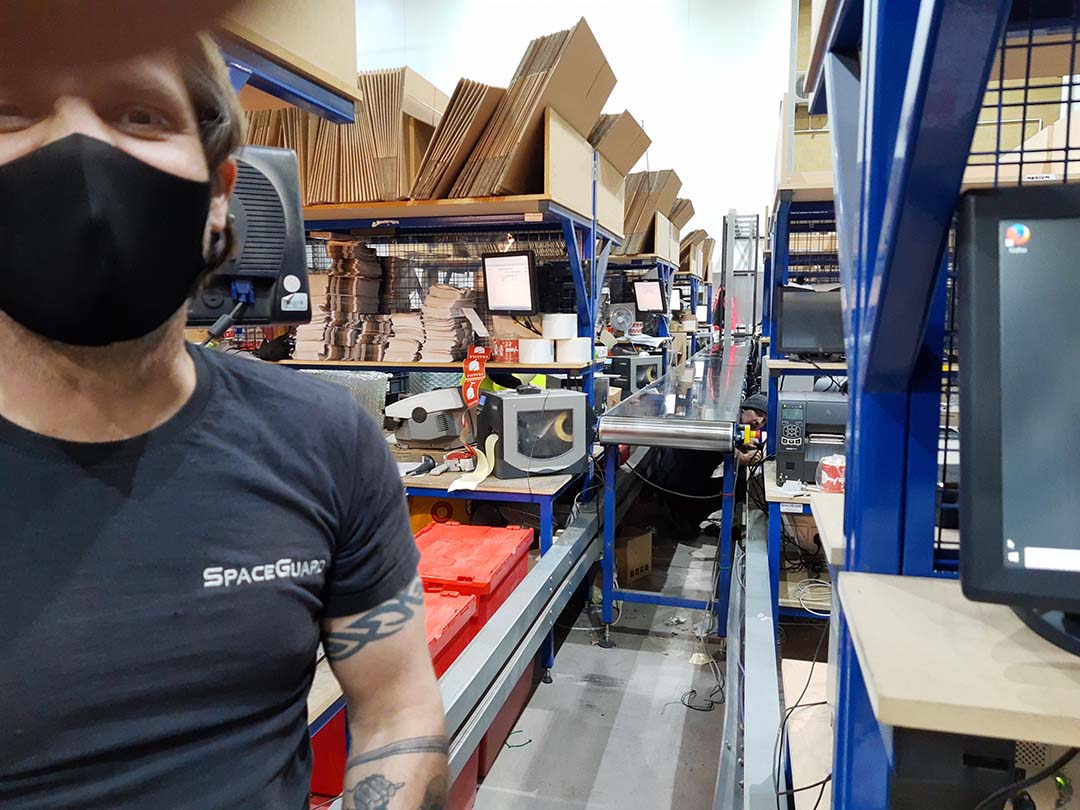 Reliable conveyors on short lead times
Contact our team today to find out about the full range of conveyors for sale on short lead times for urgent requirements.
The Spaceguard team has many years of experience in conveyor production and has worked with a wide range of industries.
We can quickly offer tailored advice to suit your business as well as free competitive quotations specific to your application.
Our team also offer conveyor installation, this is arranged to suit your schedule to minimise disruptions.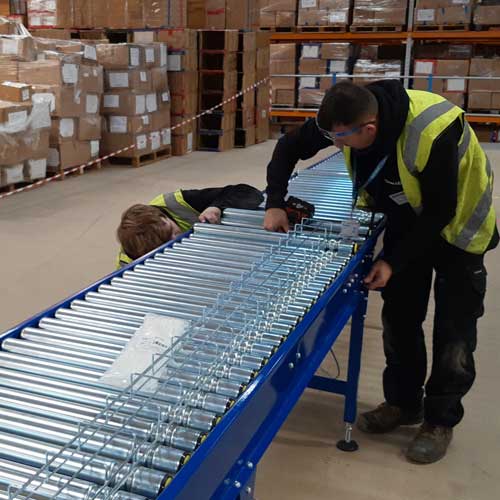 Delivery
We use our trusted carriers to deliver your equipment throughout the UK and Europe.
Each conveyor is delivered fully assembled and wired to make installation quick and easy.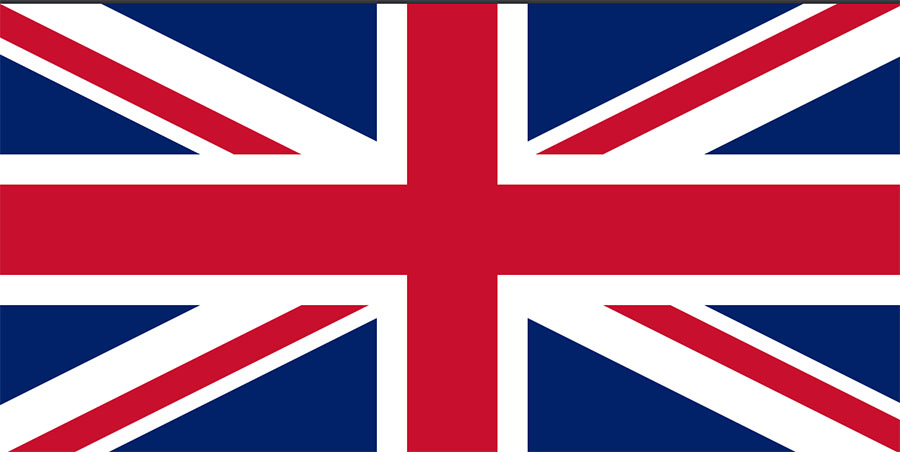 UK Manufacturer
All conveyors are manufactured in our Hull based factory.
We manufacture and supply quality robust equipment, ready to work for your business
Installation
We offer full installation for all products as required across the UK.
Our efficient installation team are used to working in busy or demanding environments with minimal disruption to ongoing operations.
Support & Servicing
If there's ever a problem with your equipment or you need some advice, our team are ready to help you.
We keep a stock of spare parts ready for urgent replacements or repairs.
Flexible Payments
A variety of payment terms, finance options, and credit accounts are available. We also accept payment via BACS, cheque, credit/debit card, and Paypal.
We can also offer OEM and equipment reseller discounts.
Documentation & Warranty
All conveyors are supplied fully CE marked with manuals available in print and online.
We also offer a 1 year parts warranty for your peace of mind.
Receive a FREE quotation
Please complete the form below to send a message to our team.
For product and pricing enquiries please include a brief overview of your requirements.
Quick response guaranteed
8-5pm Mon to Thurs, and 9-3pm on Fridays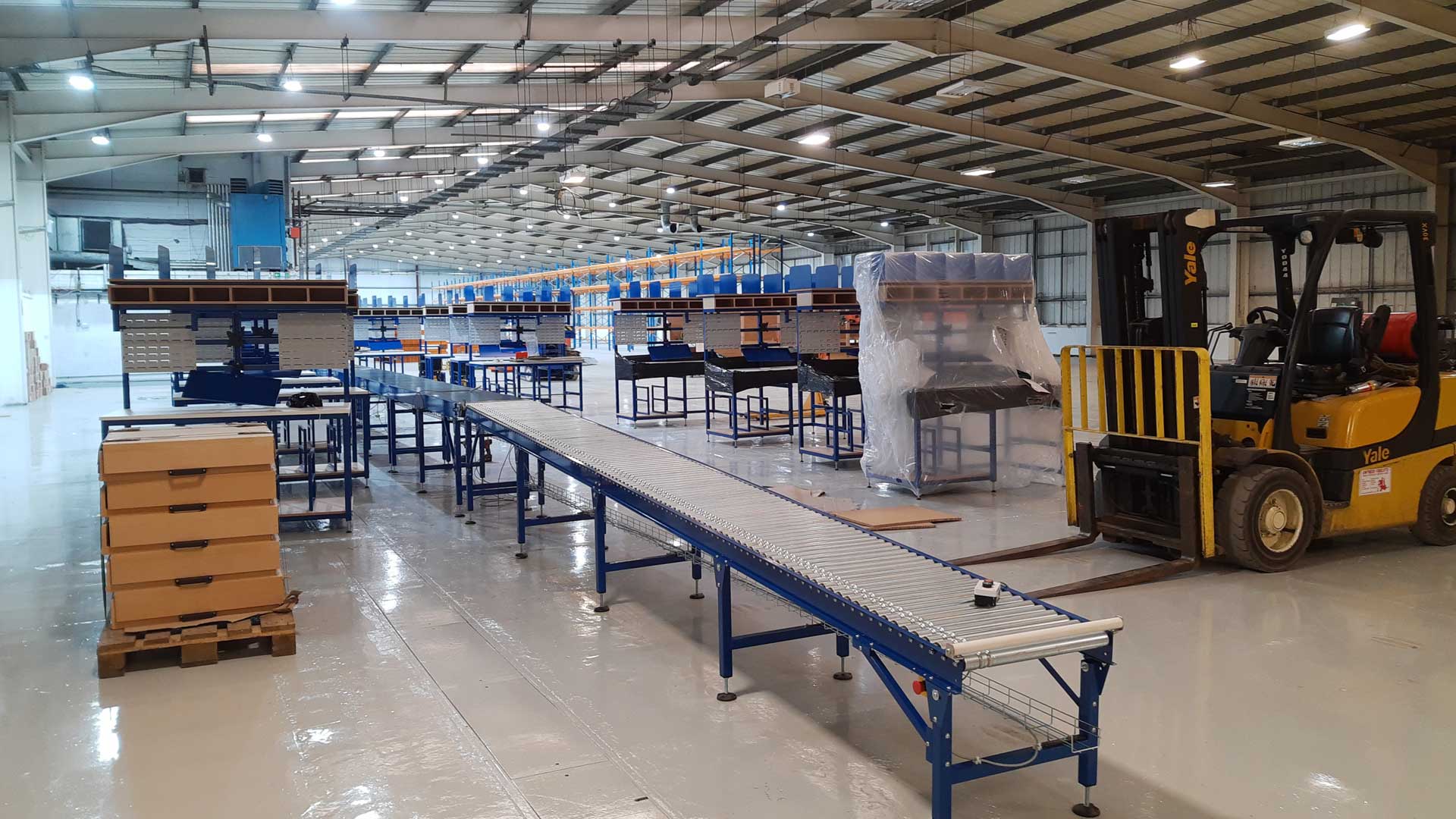 "Spaceguard conveyors are made to suit your requirements - from materials, to size, to speed. Contact our helpful sales team today to discuss your requirements. "