Packing benches and packing tables manufactured in the UK by Spaceguard
Spaceguard are UK manufacturers of robust welded frame packing benches and packing table accessories. The standard benches are comprised of a robust welded steel frame together with a durable worktop. All of our benches are generally delivered fully assembled & ready to use.
Our worktop material options include laminate, multiplex plywood, medium density fibreboard, polyethylene and stainless steel.
We also offer options for lower roll holders, packaging material cutters, upper shelves in addition to many options for storage solutions.
Should you require a non-standard size or design of packing table please contact our sales team. They will be able to help with the design of a more bespoke packing table, or packing conveyors.
The standard workbench height is 850mm +/- 50mm on the adjustable feet. The load rating of the standard range of benches is up to 500 Kg UDL (uniformly distributed load).
On this range of products the lead time is approximately 7 to 10 working days. For larger quantities please contact our sales team.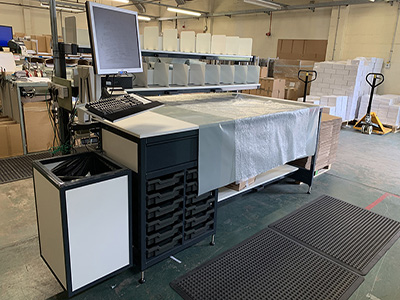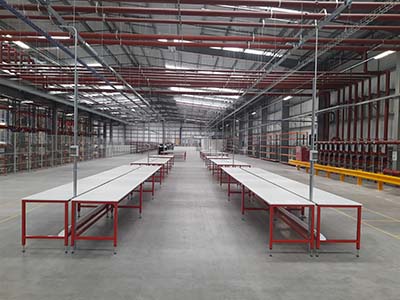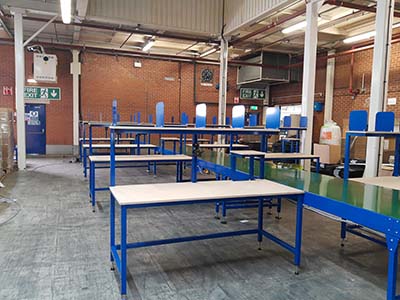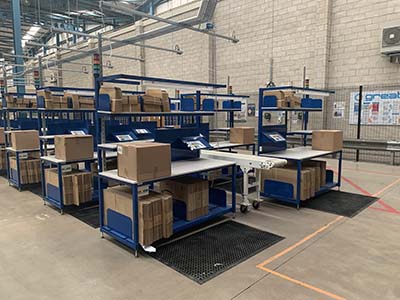 We offer fast quotes on robust standard and bespoke benches at great prices.
Phone: 01482 363445 Email: sales@spaceguard.co.uk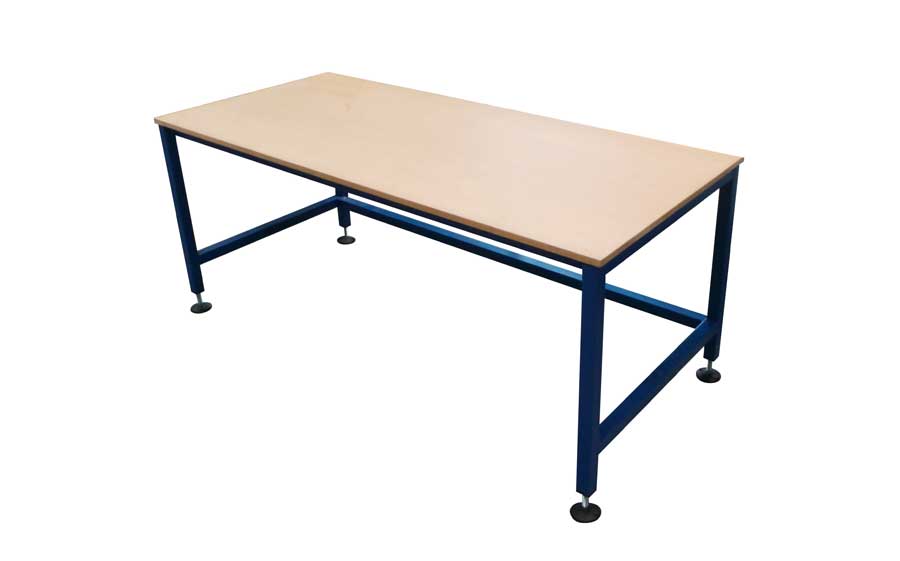 Base Packing Bench
The standard base bench is a quick ship standard packing table which is delivered to site fully assembled and ready for work.
Frame: Powder coated with a robust welded steel box section frame.
Worktop material: MDF or Low pressure laminate, however other options are available for bespoke benches.
Base benches are also available to buy online, please see the price list below.
Buy Packing Tables Online
Pack Bench With Storage
We can manufacture benches with additional storage options including:
Upper shelves
Lower Shelves
Tool Rails
Pigeonholes
 Peg boards & Louvre Panels
Cupboards & Drawers
Packing Bench With Cutter
Suitable for cutting bubble wrap and kraft paper, in addition to corrugated cardboard.
Makes packaging items significantly faster and more efficient.
Roll holders can likewise be included if required to hold packaging materials.
Replacement blades are also available.
Further Customisation Options
Choice of colour for frame and also worktops
Lighting options including LED
Computer Integration
Weigh Scales
Ball transfer and rollers
Wheels / Castors
Electrical Sockets
Andon Signal Lights
Bespoke Packing Benches
Fully custom made pack bench to suit customer requirements.
In house design team who can assist in the planning process.
3D Drawings can be provided.
Choose from a wide variety of customisation options and process aids to suit all industries.
Manufactured and delivered directly from our UK factory.
Please see our bespoke workbench page to find out more.
Quick deliveries on standard benches.
Delivered fully assembled and ready for work.
Onsite installation service available.
Packing Tables & Benches Gallery
Packing Lines
We also produce complete packing lines which include packing conveyor systems to help improve your productivity. As a UK workbench and conveyor manufacturer we have an in depth understanding of the requirements of a wide range of industries. At Spaceguard we take pride in delivering robust and reliable standard and bespoke packing solutions.
With this in mind please contact our sales team to discuss your project requirements.
Phone: 01482 363445
Email: sales@spaceguard.co.uk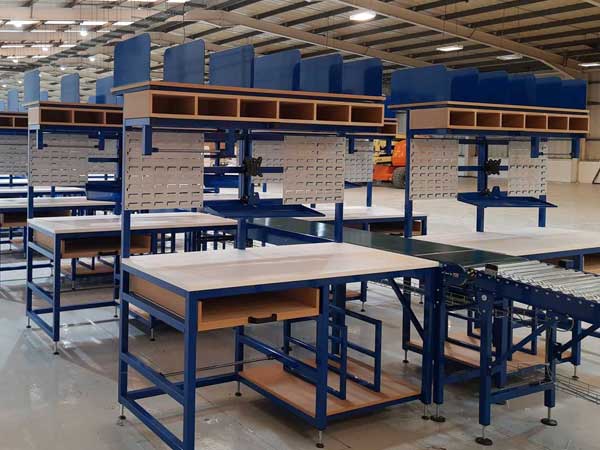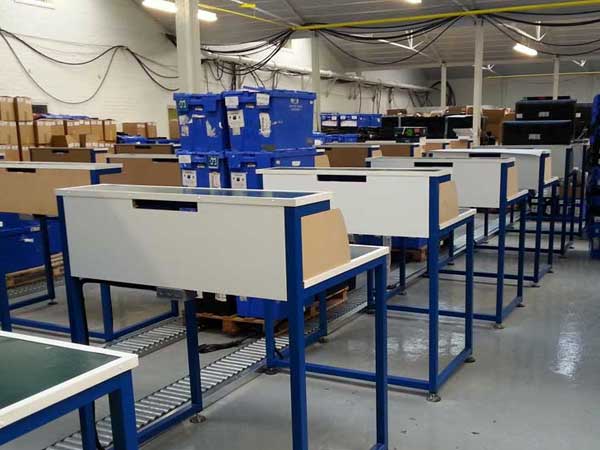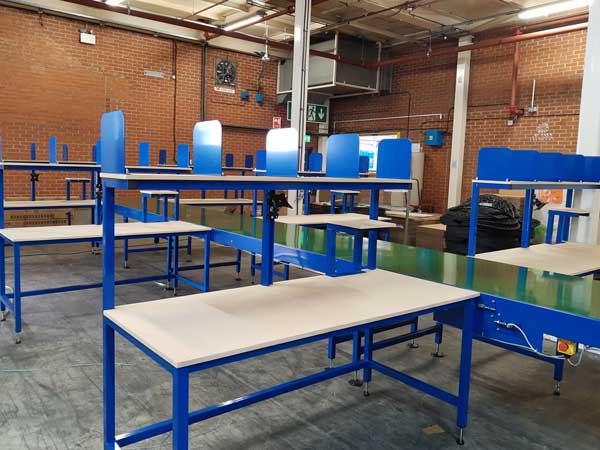 Frequently Asked Questions
This can depend on the user and the activity for which the bench is used, and also whether the user is standing or seated. As standard our benches come at a height of 850mm, with adjustable feet allowing for an additional 50mm in height adjustment. We also manufacture height adjustable tables should you require extra height flexibility.
Generally our work benches are delivered fully assembled and work ready, therefore they do not often require installation. However if your project does require installation we do have a team available. Please discuss this with our sales team.
We normally use our trusted delivery partners to collect your bench from our factory and have it delivered directly to you.
When you place an order we will let you know the estimated delivery date in the order confirmation. You will then also receive an update via phone or email with the allotted delivery date and time once this has been fully confirmed.
Depending on your order you may require the use of a tail lift, forklift or similar for unloading or placement.
Finally, if you have any special requirements for delivery please let our team know beforehand.
Request a free quote for your Packing Bench
Other products manufactured in the UK by Spaceguard