As a UK belt conveyor system manufacturer, Spaceguard offers a wide range of standard and also bespoke built belt conveyors. For use as stand alone transport conveyors, or similarly as conveyor belts for integration into other equipment and machinery. They can also be coupled with other conveyor equipment making a belt conveyor system. Please contact our skilled sales team to discuss your requirements. By Phone: 01482 363445 or by Email: sales@spaceguard.co.uk.
Transport conveyors
Standard belt conveyors reduce manual handling, making them ideal to transport goods.  As an example, many production lines use belt conveyors. Spaceguard is a UK manufacturer. Therefore we are ideally positioned for supplying transport belt conveyor systems. Supplied fully wired and assembled as standard, therefore ready to use. With standard options for variable speed and PEC control electrical control panels. Reducing the requirements for additional works. Built using quality components, in addition to proven designed. For an especially reliable low maintenance conveyor solution you can be assured Spaceguard is your ideal industry partner.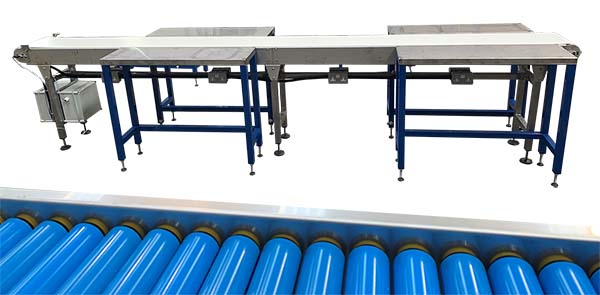 Inclined belt conveyors
Whether you require a mezzanine inclined belt conveyor system for transferring goods between two floors,  or a troughed belt stainless steel flighted belt conveyor for use within food production. Spaceguard are an ideal manufacturing partner. Bringing a wealth of experience of producing reliable conveyor products. Built to suit your specific requirements.