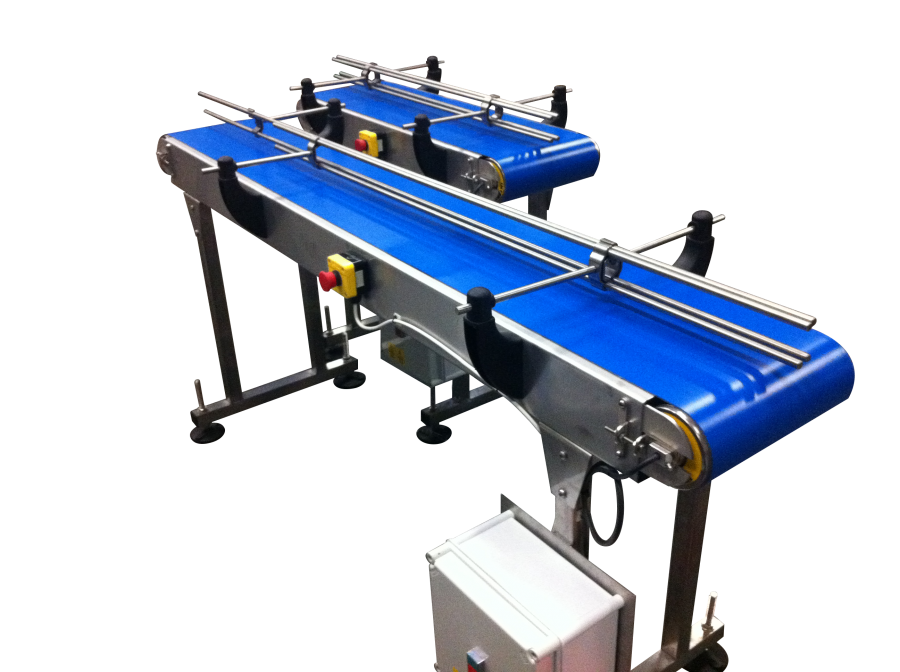 Plug & Play transport conveyor belts & belt conveyor systems on a short delivery lead time.
Standard transport belt conveyors, manufactured with powder coated mild steel frames for warehouses & factories. Or fabricated with stainless steel frames and FDA belts for food applications. By using quality components, we are able to supply, a reliable, low maintenance conveyor at a great price. Normal lead time on this range of conveyors is 5 – 7 working days.
Please contact our sales team or fill out the form below with your requirements for a quotation.
Features of this belt conveyor range include: Enclosed drum motor or geared motor drive. Quality 2ply Antistatic PVC topped belt. Easy to adjust tension and tracking adjustment. Choice of control panels. Inlcuding, Start / Stop Variable speed or PEC controlled.
The use of the standard design improve product quality, improves reliability, reduces the maintenance requirements. Whilst reducing the price and delivery times. Belt conveyors can be delivered in 5 to 7 working days. You can be assured of receiving quality conveyor belt equipment with the peace of mind given by a parts warranty.
Spaceguard supply and manufacture one of the widest range of belt conveyor systems in the UK. From miniature conveyor belts to heavy-duty belt systems, we have a wider selection of conveyor belts in terms of options and attachments than most other UK manufacturers.
Sapceguard are UK manufacturers and supplier of materials handling equipment. Suitable for a wide variety of industries. From Supply of standard modules to design and installation of bespoke equipment. Spaceguard are an ideal manufacturing partner.