Electronics sector equipment manufactured in the UK
Spaceguard manufactures a range of equipment for use in designing, building, or working with electronics.
We are a well-established manufacturer of workplace equipment including workbenches, electrical workstations, ESD & anti-static workbenches, conveyors, trolleys, shelving and more.
Working closely with our engineering and design team, we offer you the ability to produce fully bespoke equipment to enhance your workflow.
Spaceguard offers your business the ability to fully design and customise electronics processing workstations to suit the products you work with. Whether that be large household electronics repair and refurbishment, or component reclaim - we always work with our customers to suit their specific needs.
Our equipment manufacturing service will assist your business in improving all types electronics processing, including repair, reclaim, refurbishment, recycling, and disposal.
Please see the sections below or contact sales if you have any questions about our products & services.
Phone: 01482 363445
Email: sales@spaceguard.co.uk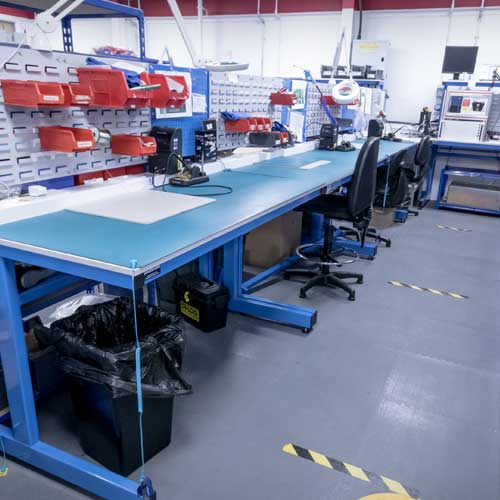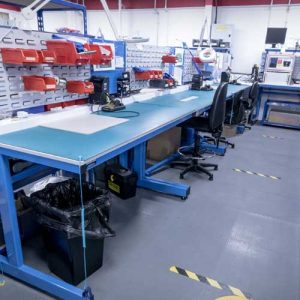 Fully bespoke UK manufactured equipment
Made to order to suit your specifications
No minimum order requirement
3D renders & layout drawings provided
Complete electronics lab & workshop fit outs available
Equipment delivered fully assembled or installed by our team

Fully ESD-ready workbenches can be manufactured. We also provide ESD kits, including earth bond plugs, straps & cables, and bench matting.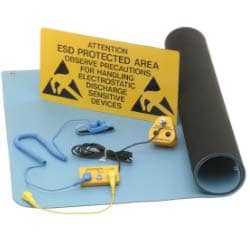 Custom designed trolleys & frames
Trolleys can be designed and manufactured to suit the physical size and volume of the goods you are processing.
For example, we've manufactured bespoke angled a-frame trolleys to hold large televisions in place during repair and refurbishment.
Bespoke trolleys are ideal for transporting electronics, components, and waste materials throughout the working environment.

Conveyor Systems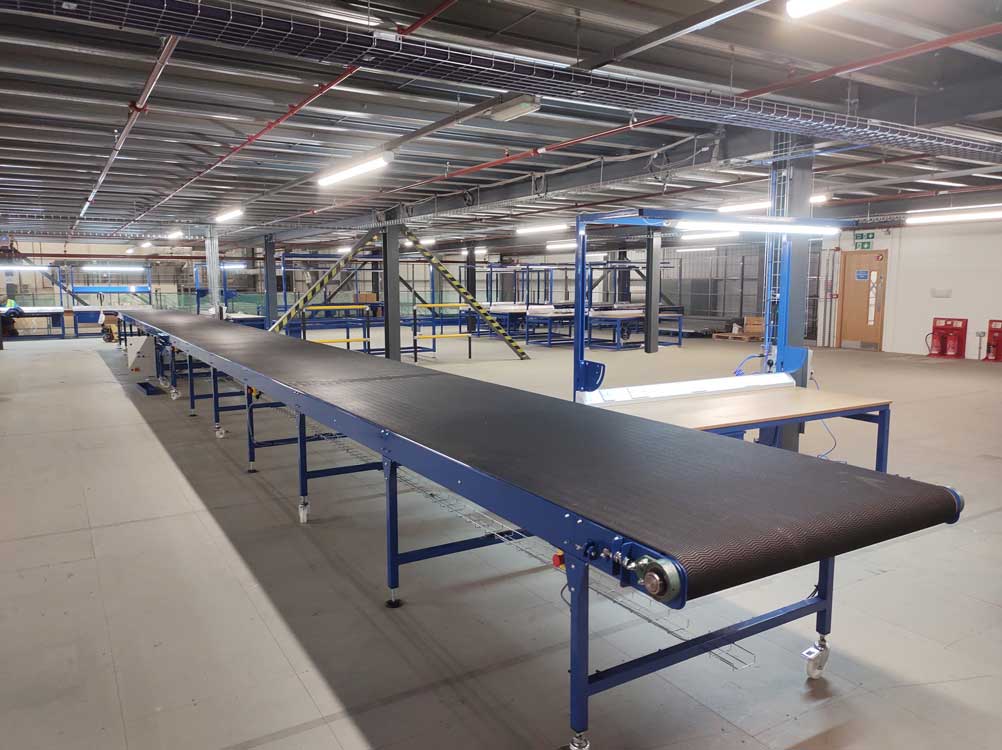 Electronics Processing
Equipment for manufacturing, assembling, repairing, refurbishing, and recycling electrical products.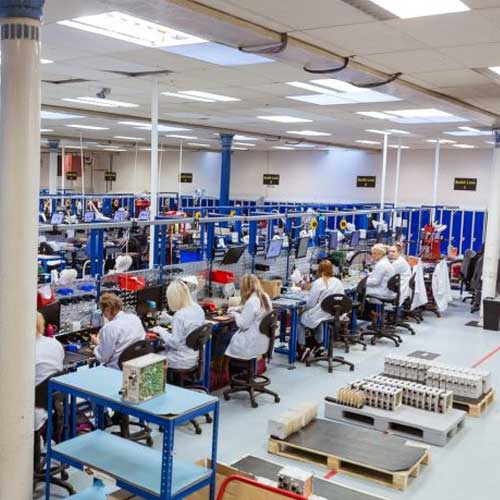 Complete Workshop Fit outs
Our team has experience designing and manufacturing complete electronics workshop fit outs.
This includes custom fitted workstations, benches, storage units, and partitions.
Please contact our sales team to discuss your requirements.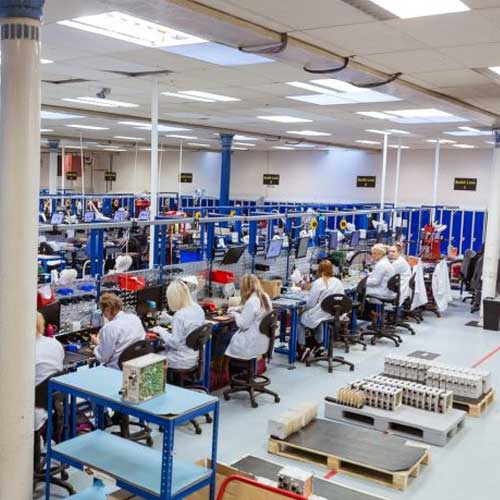 Custom made PCB racks & holders
Intro
We design and make all equipment in house at our UK manufacturing site. As such we are able to design fully bespoke electronics repair & refurbishment equipment.
This includes custom racks & workstations suited to holding components and circuit boards (PCBs).
The workstation pictured was designed to hold PCB's whilst components were placed prior to being machine soldered.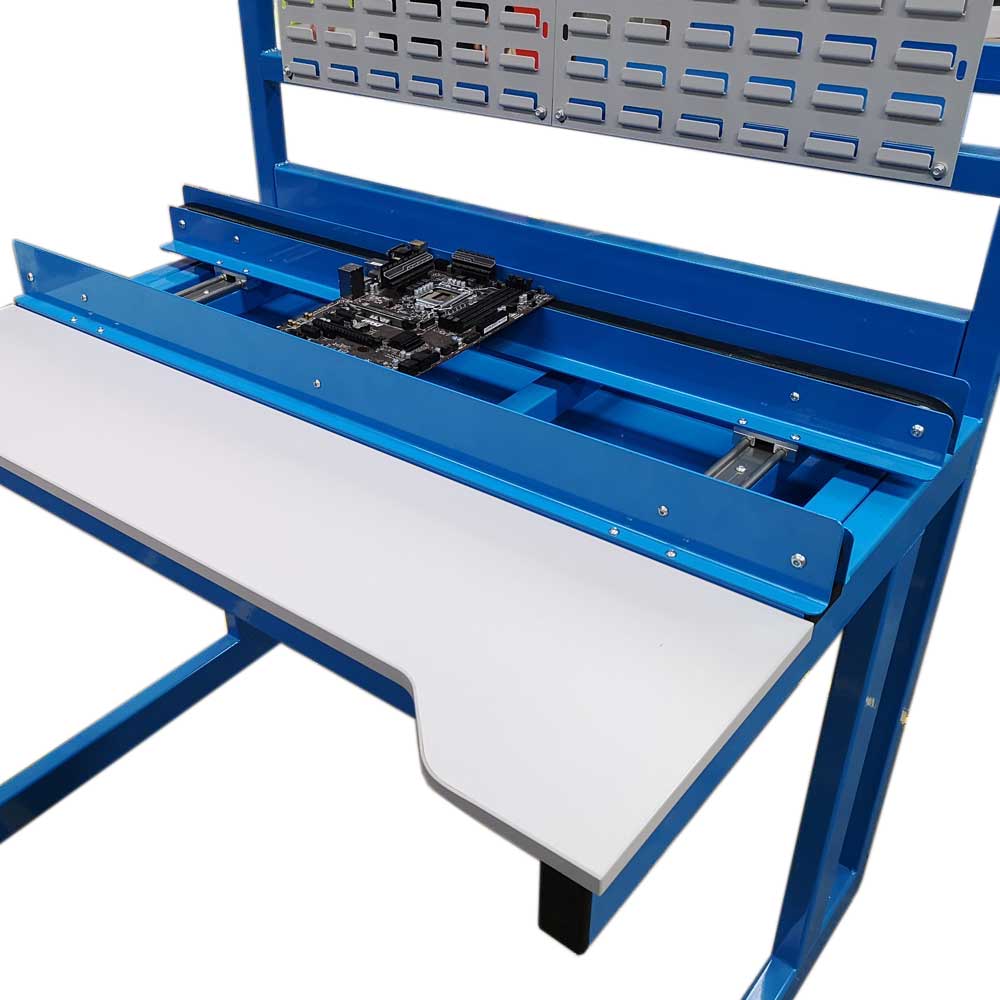 Work area barriers & divider screens
Each divider or screen is made to your specification, allowing you to choose the material, colour, and size to suit your workspace.
Barriers and dividers are useful to enclose spaces, create process zones, and keep walkways safe and clear.
If required, our team can visit your site to install barriers and screens.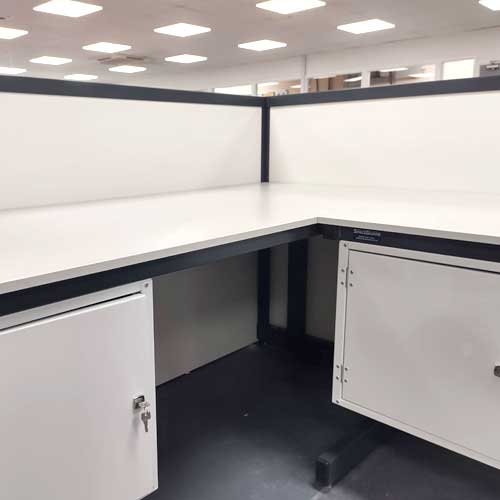 Get a FREE Quote today
We are a leading UK manufacturer of bespoke industrial equipment
Email sales@spaceguard.co.uk with your enquiries
Mobile Phone Repair & Refurbishment Workstations
Spaceguard provide workbenches and conveyors for high capacity electronics processing facilities in the UK.
The workbenches shown in this photo featured a durable anti-static PVC work surface which is cushioned to provide additional protection to products.
We also manufacture benches with ESD laminate worktops, or we can provide ESD kits and bench matting.
Drawers, cupboards, and shelves can also be added for storage, with under shelf space often used for diagnostic equipment and tools.

IT & PC Repair Workstations
Made to order to suit your repair process
IT equipment & PC repair workstations are made to suit your choice of frame design, worktop material, height or angle adjustable shelving, lighting, and sockets.
As with all our equipment, these are made to suit your requirements.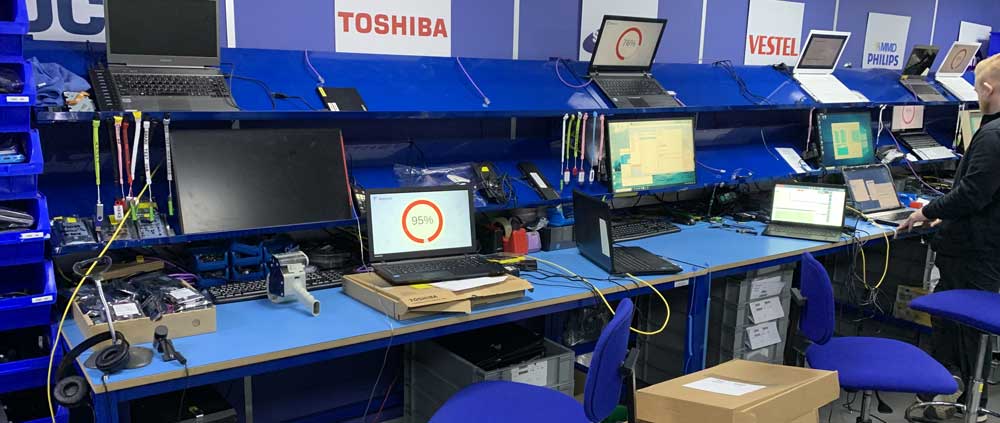 Consumer Electronics Refurbishment & Recycling Equipment
Spaceguard equipment is designed to assist in processing of consumer electronics, whether that's for repair, refurbishment, component recovery or disposal.
We make specialist racks, workbenches, trolleys, stands and holders which are designed to suit the electronics you're working with.
Our 3D design team works closely with electronics processing service providers to create bespoke equipment to suit their needs.
Whether it's for stripping TV's, or disassembling games consoles, we create ergonomically friendly equipment to enhance your workflow and improve productivity.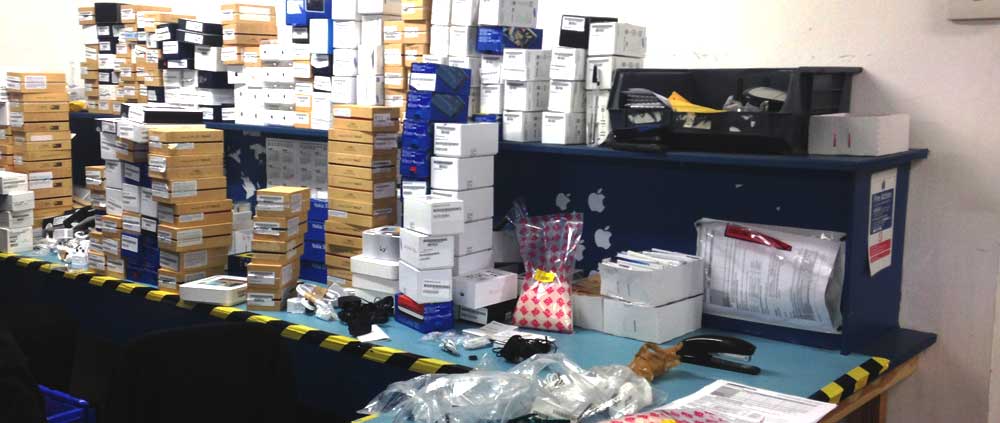 Conveyor Systems
In addition to the workstations shown above, we also provide a wide range of conveyors to enhance your working environment.

Belt conveyors are a useful addition for safe product transport, these conveyors can be customised to be anti-static as required to suit delicate electronic components.
Conveyors provide a number of uses, including taking individual items such as mobile phones through the repair centre, or for transporting bulk waste materials ready for environmentally friendly disposal.
As we are a UK conveyor manufacturer we're able to build conveyors to suit your products or process,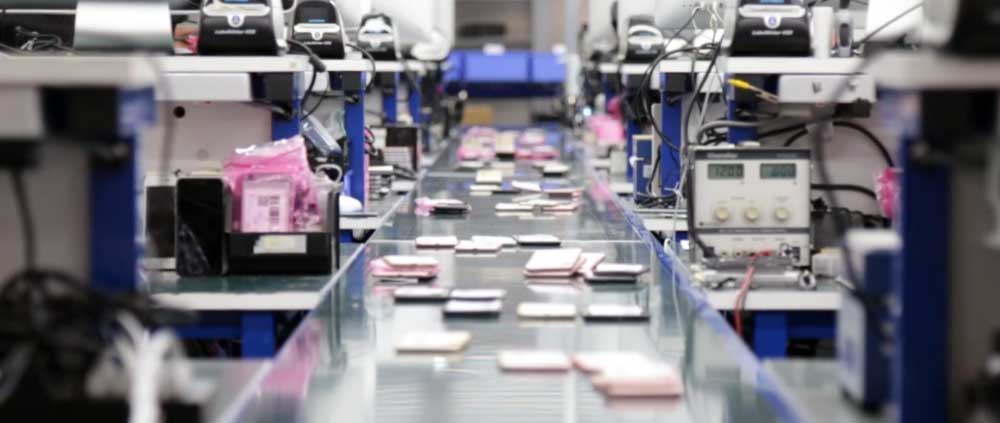 Storage & Transportation
Safe storage solutions for all eventualities
We manufacture bespoke shelving, racking, and carton flow storage.
This includes floor pallet tracks for moving large quantities of goods, in addition to gravity roller conveyors, ball tables and roller tables.
We also design custom-made trolleys to suit your electronics.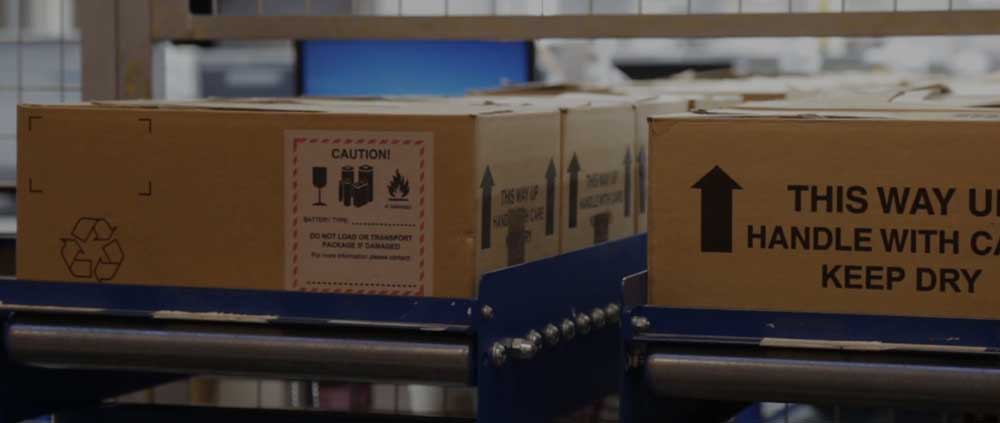 Clean Room Equipment
Clean rooms designed and built to your specification
Electronics clean rooms are important to stop contaminants in the air from getting into the electronics.
We provide a range of workstations, barriers, partitions and other equipment suitable for use within clean rooms.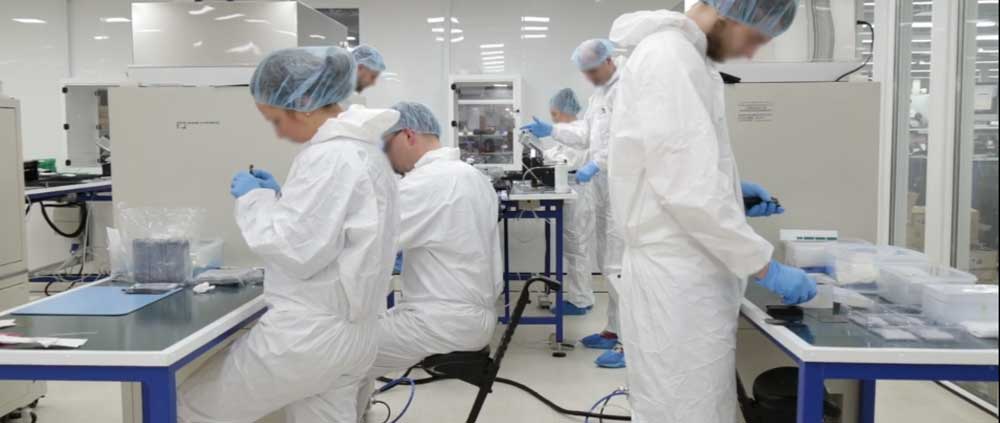 Domestic Appliance & White Goods Processing
Equipment manufactured to help move bulky items with ease
Spaceguard provide equipment to assist in the production, assembly and repair of large appliances.
This includes assembly line roller conveyors, ball tables, trolleys, and roller table workstations.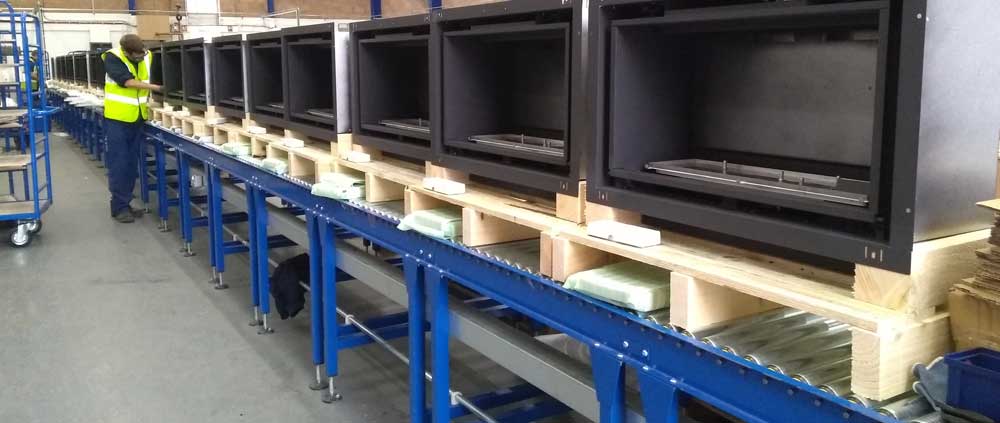 Receive a FREE quotation
Please complete the form below to send a message to our team.
For product and pricing enquiries please include a brief overview of your requirements.
Quick response guaranteed
8-5pm Mon to Thurs, and 9-3pm on Fridays