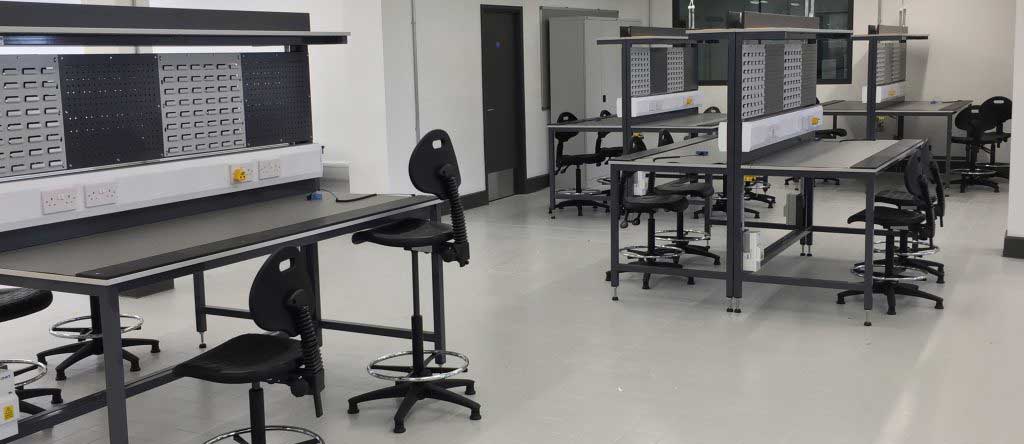 ESD Workbenches
Spaceguard ESD workbenches are designed to to meet the needs and requirements of the electronics industry. Manufactured in our UK factory to your specifications these ergonomic work stations are built to suit your process. As a result Spaceguard ESD workstations lead to an increase in production productivity.
We are the ideal partner for electronics workbenches and also production systems, manufacturing robust comprehensive electrical benches along with automation between or within the workstations. Spaceguard electrical workstations are ideal for assembly, quality control, repair and testing.
Anti static ESD Workbenches, once grounded can be incorporated into a EPA. (Electrostatic protected area).
Due to the complex nature of ESD benches please contact our technical sales team to discuss your requirements and to also receive a free quotation.
Phone: 01482 363445  email: sales@spaceguard.co.uk
Key features of Spaceguard ESD Workbenches
Compliant to IEC61340-5-1
Robust welded box section frame construction
Supplied fully assembled ready for work (NOT FLAT PACK)
Durable powder coated finish
Manufactured in our UK factory to your specifications
Supplied fully assembled ready for work
Choice of worktops including full "ESD"
Fixed bench earthing points
Choice of worktops including full "ESD"
Comes fully wired electrically tested
Options for tool panels, lighting, sockets"
Choice of worktops including full "ESD"
ESD Laminate Specifications
Abrasion Resistance to class H to EN438
Heat resistance: resists molten solder. Oilpoint test 20 minutes at 180 DegC
Meets EN438
Resistant to organic solvents, weak acids, alkali, petrol and oil
Volume resistance: Rv = 7.5 x 105 - <1 x 109 Ohms - conforms to BS IEC 61340-5-1
Grounded to mains earth point
ESD Workbenches
Spaceguard are UK ESD workbench manufacturers. Built to your specifications of size, materials and additional equipment. Spaceguard delivers (and installs where required) ergonomically designed, robust well engineered ESD workbenches, throughout the UK and Europe. Spaceguard also manufacture a range of height adjustable ESD workbenches.
Please contact our sales team to discuss your requirements: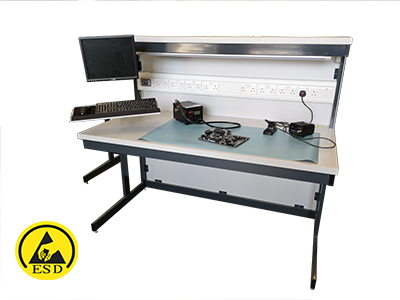 Integrated ESD workstations and automation for assembly and test lines
As a UK manufacturer, Spaceguard is able to work closely with customer to manufacture ESD production, process and testing lines to suit your specific process.
All our ESD workstation products are available with the wide range of accessories.
Please contact our sales to discuss your specific requirements.
ESD Anti static Floor mat
ESD approved floor matting.
EPDM foam backing for anti fatigue benefits.
Diamond patterned anti slip rubber top provides anti slip benefits and is also resistant to oil spills.
Grounded via a 10mm male stud which is factory fitted to the mat.
Bevelled on all sides even on cut lengths.
Full range of ESD Accessories available here.
Depth: 9mm.
Wear resistance: Very Good.
Slip Resistance: Excellent.
Anti Fatigue: Very Good.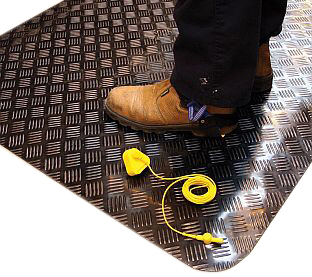 Personal ESD Grounding Products
Wrist straps, cords and heel grounders
A wide range of ESD grounding products meeting IEC-61340 standards are available for supply with Spaceguard workbenches. Including ESD wrist grounding straps and leads. Please Note: Alternative grounding method is through the foot and footwear to ESD control flooring or mats. A wide variety of footwear grounding devices are also available.
Antistatic ESD Chairs, stools and sit stands for electronic assembly areas
ESD chairs and stools conform EN 61340-5-1:2001 European Standard and suitable for use in static controlled environments. Our ESD chairs are designed and manufactured for use in the electronics and electrical industry. This range of chairs prevents the build up of static electricity by dissipating any static charges directly to earth via a conductive wheel or glide.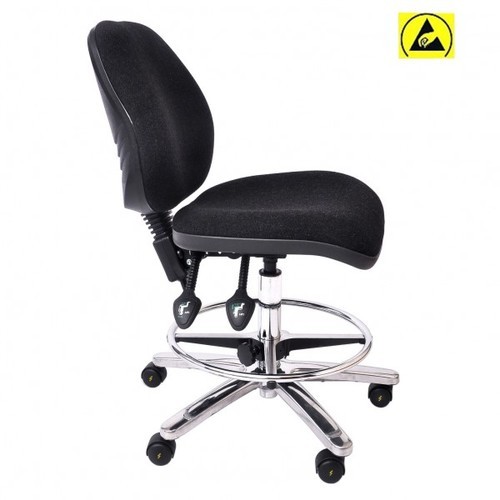 ESD Mini roller tracks
Ideal for incorpation within ESD workbenches to move products. Or to be built within storage racking for the FIFO storage of container held parts.
Spaceguard medium duty Antistatic ESD workbenches are generally manufactured from 40 x 40 x 1.5, 50 x 50 x 1.5mm or 80 x 40 x 3mm steel box sections. They are solidly welded for strength and are also supplied fully assembled ready for work. As the benches are manufactured to order, the size of bench available depends on your application, needs and space constraints. All Spaceguard ESD workbenches come complete with heavy duty adjustable feet in addition to fixed earthing points.
Spaceguard ESD workbenches are available with a wide range of optional storage, assembly, IT, lighting, extraction and also electrical accessories which can be added at an additional cost. All electrical accessories come fully wired and tested as required.
Other products also manufactured by Spaceguard include: