What is a Roller Conveyor?
Roller conveyors generally consist of a number of rollers mounted within a frame. In the case of a gravity conveyor these rollers spin as the product travels across them, aiding the product in moving forward. The rollers of the conveyor can also be powered, meaning items placed on the conveyor will be pushed forward by the conveyor rollers. In either case the roller conveyor makes product transportation simple and also efficient for most industrial environments.
Most commonly transported items include boxes, pallets, crates, totes, trays and also boards. Items being placed upon a roller based conveyor should generally have a flat and rigid bottom, this ensures that the product will not slip in between or sag in the rollers and become stuck.
How Are Roller Conveyors Used?
Roller conveyors are normally used to reduce manual and repetitive handling, and used to allow for heavy items to be transported with ease. For this reason they are used in industrial and manufacturing environments where products and components need to be transported through different stages of the production process. Roller conveyors take the weight of the product being transported, which means employees are less likely to become injured or suffer from repetitive strain injuries.
Environments Where You Might Find Roller Conveyors:
Found throughout a wide range of industries, roller conveyor systems offer an incredibly versatile, adaptable, and simple to install conveyor solution. This makes them popular with small businesses and large businesses alike.
Roller conveyors can be found in the following industries:
Food production
Food packaging
Packaging
Logistics
E-commerce Fulfilment
Postal Services
Luggage handling
Steelmaking
Manufacturing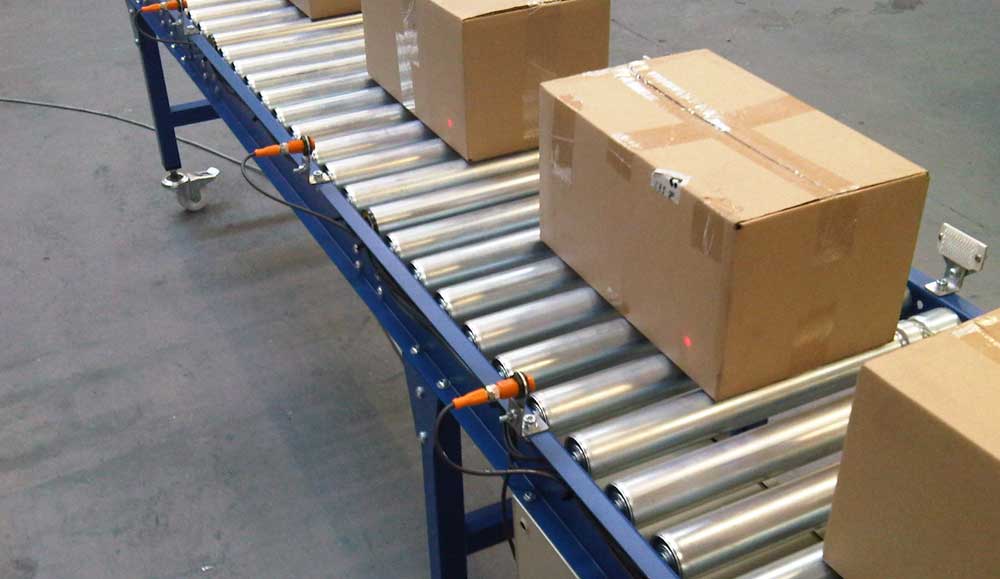 What Are The Different Types Of Roller Conveyors?
Roller conveyors can be separated into two main categories, unpowered, and powered.
Unpowered
Unpowered gravity conveyors generally incur a low cost to operate as there is no need for a power source. The items on the gravity conveyor move freely with the force of gravity, or through manual force. Due to the installation at a decline angle, the products will roll downwards to their destination.
A gravity roller conveyor can be built to your product specification, and this is advisable for safety reasons. If you place products lighter or heavier than the weight of product for which your conveyor was designed, the transport speed could be sub optimal.
This is a downside of a gravity roller conveyor, that the conveyor speed cannot be controlled. In this situation a powered roller conveyor may be better suited.
Powered
A powered roller conveyor allows for transportation of products at variable speeds. It can also cover much longer distances than a gravity roller conveyor. Powered roller conveyors will commonly be found within the manufacturing industry as they have much higher weight capacity than gravity conveyors.
The length of the conveyor can be split into different zones, allowing for differing speeds in each zone if required. Through the effective use of speed controls, risks of product damage or employee injury become lessened.
A powered roller conveyor is more expensive than a gravity conveyor, however the versatility and control options do lead to cost savings overall by improvements in efficiency, and a reduction in manual handling.
Below you will find further information on each of these types of conveyors, you can also read our guide to determine what type of conveyor you need.
Gravity Conveyor
A gravity conveyor is an unpowered roller conveyor that uses manual force, or the force of gravity to transport items. For a gravity roller conveyor to work properly it should be installed on a decline, and items will roll in the direction of the decline. We've made this video to help demonstrate how the gravity roller conveyor works. Items placed upon a gravity conveyor need to be heavy enough to allow the rollers to turn, otherwise items will need to be pushed,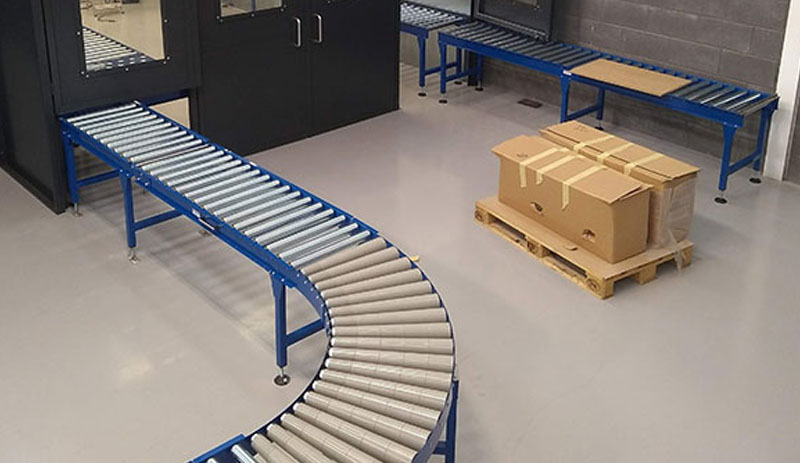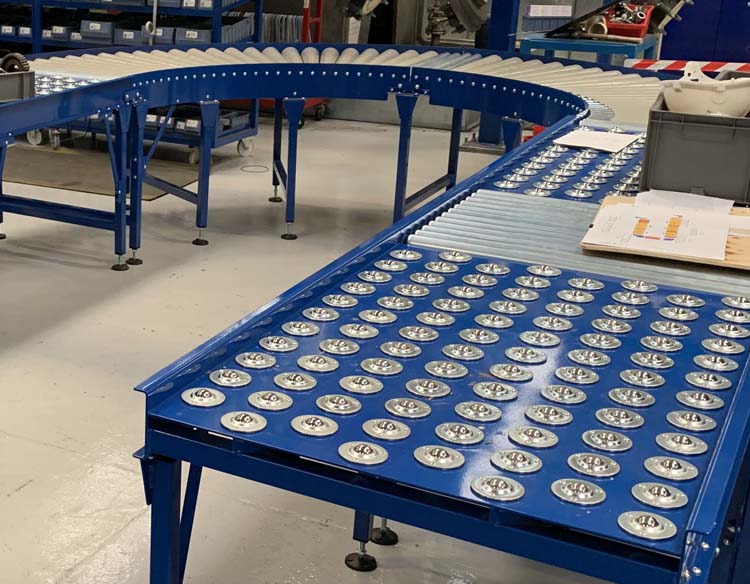 Ball Table
A ball table is an unpowered type of conveyor which is used to manually manipulate heavy or bulky items. They are often used in manufacturing and production environments to turn items for inspection or during product assembly. The balls hold the weight of the product and as the balls are able to turn freely, objects placed upon them glide over the balls' surface. One benefit of a ball table is that the balls roll in any direction, so items can be moved in any direction.
Lineshaft driven roller conveyor
A lineshaft driven roller conveyor is a universal conveyor suitable for many industrial environments and uses. The rollers are driven by a shaft underneath the conveyor, attached to the shaft are spools which in turn attach to each roller by o-rings. The o-rings transfer the drive from the lower positioned shaft to the rollers. An electric motor powers the shaft, as the shaft spins, each o-ring drives its corresponding roller.
When items on the lineshaft conveyor reach their desired stopping point, extra friction will cause the o-ring band to slip. As a result the rollers underneath the item will stop turning. This allows for products to accumulate on the conveyor without running off, or causing stoppages in other sections of the conveyor.
The lineshaft conveyor is suitable for integration into conveyor systems carrying boxes or totes, and other flat bottomed unit loads.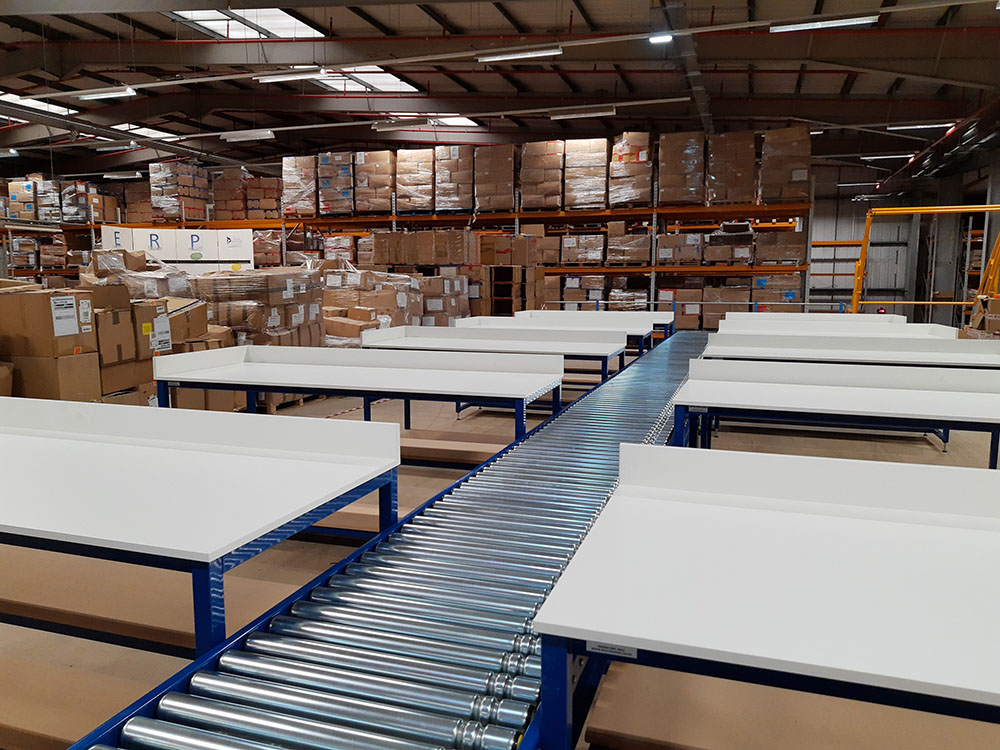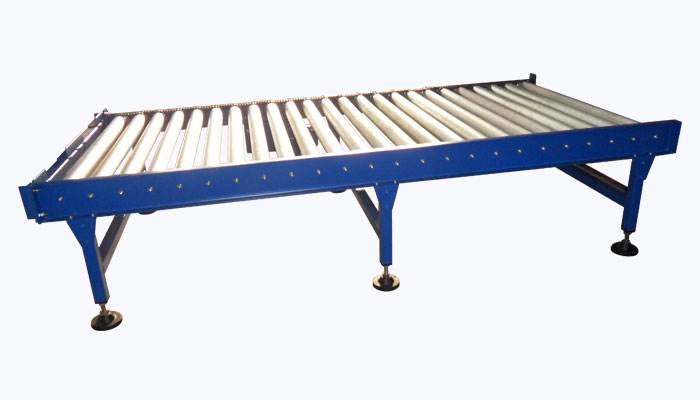 Chain driven roller conveyor
A chain driven roller conveyor is driven by a chain connected to a motor. The conveyor rollers are fitted with sprockets which connect to the drive chain. This type of roller conveyor has no slippage, making the chain driven roller conveyor ideal for transporting extremely heavy items such as pallets. The chain driven conveyor is incredibly powerful, and must have a fully guarded unit for operator safety.
24v Powered roller conveyor
A 24v powered roller conveyor is available as both fixed drive transportation conveyor and a Zero line pressure accumulation conveyor.
Fixed drive powered roller conveyor is ideal for transportation of unit loads such as cartons or totes. This driven conveyor uses 24-volt self-contained motors to drive groups of rollers transporting the product down the conveyor. With fewer moving parts than traditional motors, the 24 Volt driven conveyor requires less maintenance and is safer for users.
Zero Pressure Accumulation Conveyors use photo electric cells and zone control cards to hold products in place along the line until the zone in front of them is clear. The zero pressure accumulation conveyor uses 24-volt motorised rollers to move the rollers in each zone.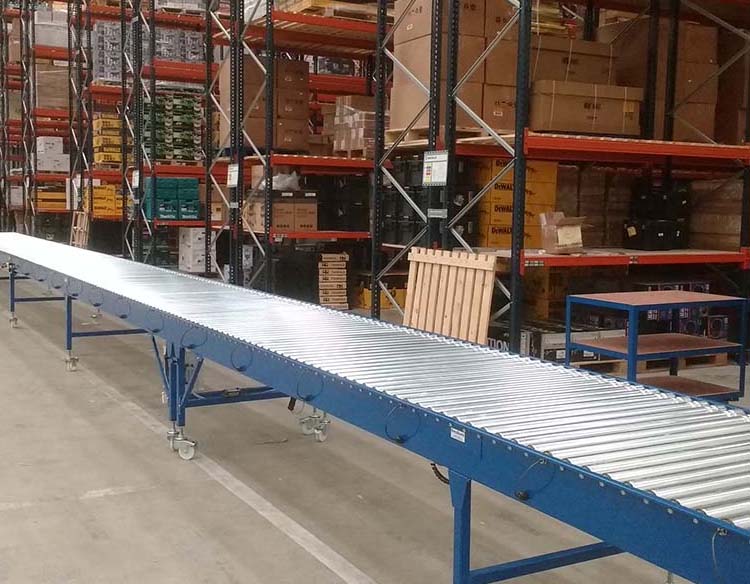 You can find our roller conveyor products here. Please feel free to contact the helpful Spaceguard team if you have any questions regarding our products.
Roller Conveyor History & Facts
The basic concept of transporting objects on rollers has existed for thousands of years. It is said that the pyramids were built using a system of wooden rollers to transport the large stone blocks into place.
It wasn't until 1908 however that a patent for roller conveyors first appeared. Hymie Goddard of the Logan Company in Indiana filed the first patent for modern roller conveyor systems.
Several years later Henry Ford popularised the assembly line and the use of conveyors became more widespread.
Automotive industries generally began using powered conveyor lines in the early 1920s which allowed for mass production in their factories, whilst coal miners were using roller systems to transport coal over much longer distances.
During the second world war however further enhancements and improvements were made to roller systems. This was due to widespread lack of natural materials, but still an increasing need for efficient production methods. Conveyor rollers were at this point being designed and built using synthetic materials for the first time in history.
Through the years further changes have been made to conveyor systems to incorporate health and safety considerations. The roller system as a result continues to evolve in line with technological advances, meaning they are now more reliable, quiet, and efficient than ever.
Commonly used Terminology
A)
Axle: Bar running through centre of roller.
B)
Bearing: Fitted within the end of the roller. Generally fitted with a single simple ball race, or deep grooved ball bearing.
Between Frame: The internal measurement between the side frames on the roller bed. Also the same as inside frame dimension, also often described as EL.
C)
Casters: Wheels mounted on the support stands. To help move the conveyor around. Ordinarily a mixture of fixed direction, lockable, and swivel lockable to help with stability.
D)
Decline conveyor: A conveyor which transports goods down a slope.
Decline angle: The angle of the decline. This will generally vary on the products to be conveyed. Heavy products require smaller inclines.
E)
End stop: Bar fitted to the end of the conveyor, in this case to stop products from falling off.
F)
Frame: The metal section holding the rollers. Usually formed steel.
Floor support: The conveyor can be mounted on a support stand which is usually fixed to the floor.
G)
Gate: To allow access, a section of conveyor has a built in hinge fitted with gas springs.
H)
Horizontal floor space: The amount of space needed by the conveyor.
O)
Overall width: Width of the conveyor section including frames.
R)
Roller: A Tubular section fitted with bearings and a shaft, used within the conveyor to reduce friction and also transport goods on.
S)
Shaft: Bar running through the center of the roller. Ordinarily spring loaded or female threaded.
Support: See floor support.
Receive a FREE quotation
Please complete the form below to send a message to our team.
For product and pricing enquiries please include a brief overview of your requirements.
Quick response guaranteed
8-5pm Mon to Thurs, and 9-3pm on Fridays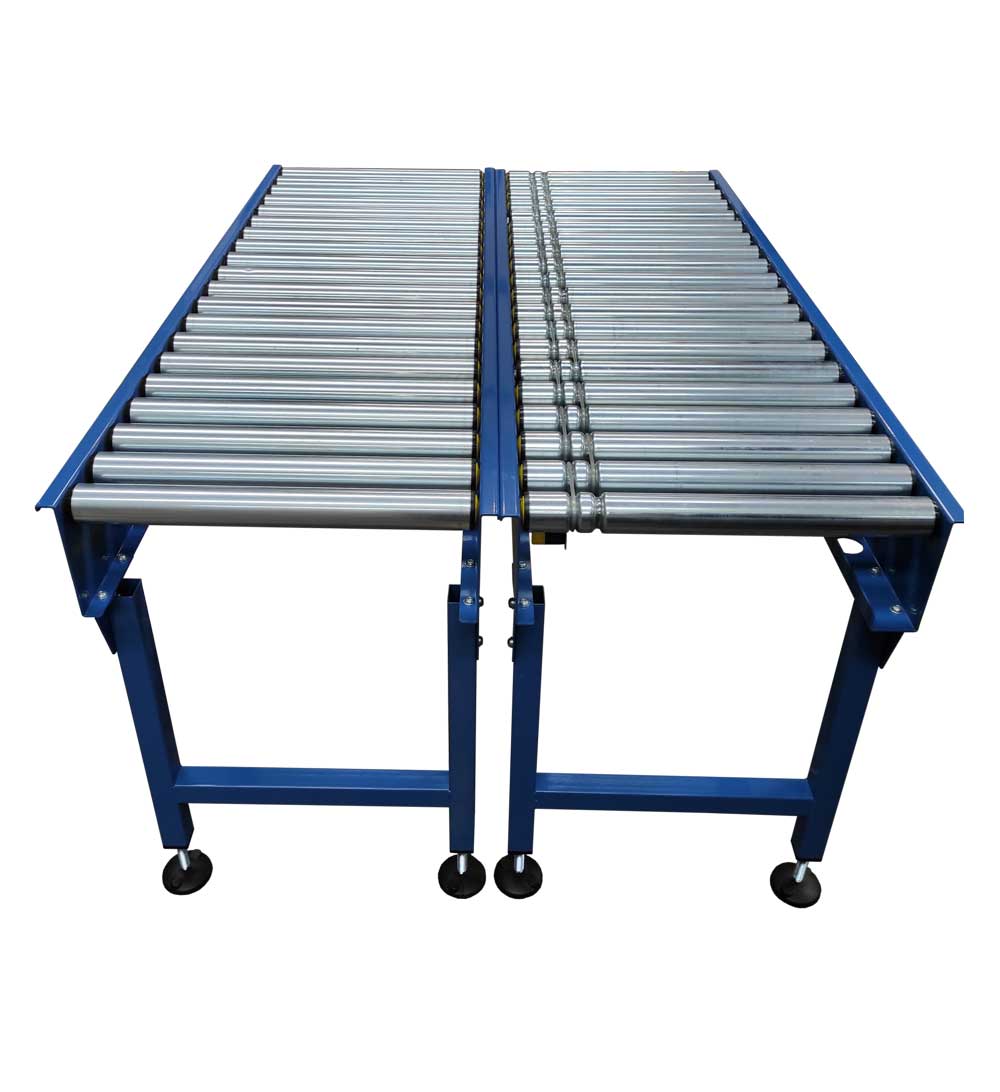 Spaceguard are UK roller conveyor manufacturers with over 30 years of engineering experience.