Heavy Duty Workbenches
What materials are heavy duty workbenches made from?
The heavy duty work benches range is generally manufactured from heavy gauge box section. We use welded cross struts and extra bracing for extra heavy duty work benches.
The tops can be constructed from hardwood or steel, or alternatively thick steel / stainless steel backed with a wooden or plywood core board.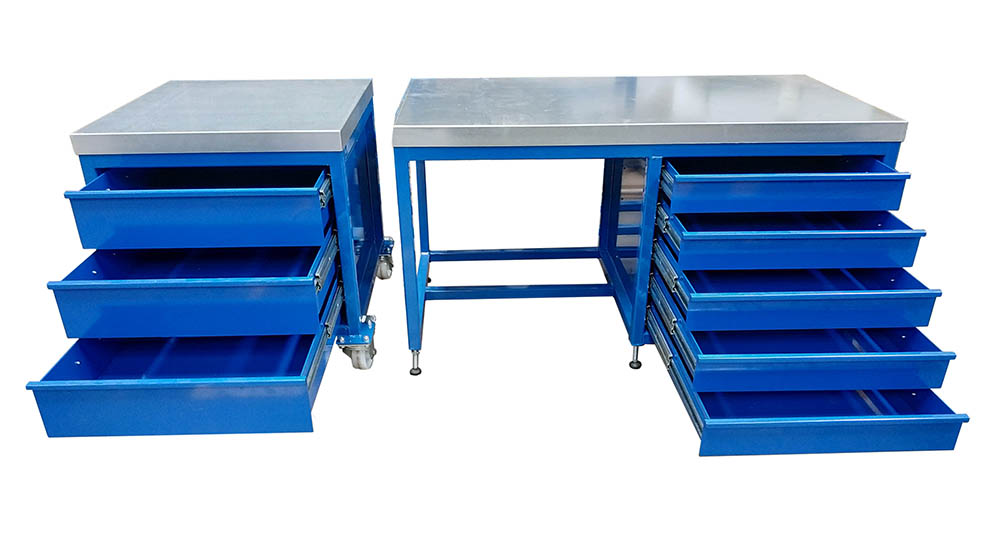 What is UDL?
UDL stands for 'Uniformly distributed load'. It is a term used by manufacturers to denote the weight that can safely be placed upon the shelf, or workbench top. This is otherwise known as maximum even load capacity, of safe working load (SWL). It is important to note the weight should be distributed 'evenly' or 'uniformly' so that no point has a heavier load than the other.
A manufacturer tests their products to ensure the UDL is correct. It is important to follow the manufacturers advice for safety purposes.
At Spaceguard we manufacture our workbenches to order. We can provide heavy duty work benches with a range of different UDL ratings to suit your requirements.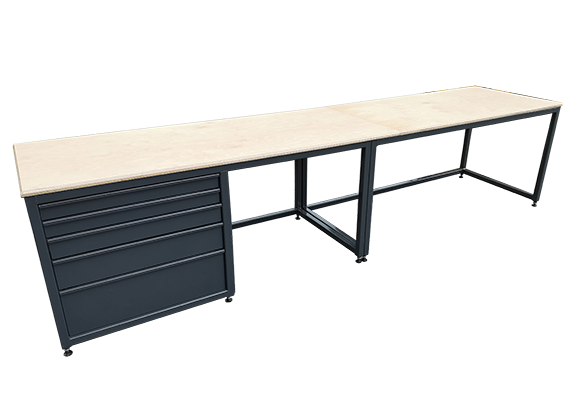 Do the workbenches have storage solutions?
As we manufacture complete custom work bench solutions, we are able to design workbenches with as much or as little storage as you would like.
Previous builds have included heavy duty drawers, shelves, and cupboards. We also manufacture benches with louvre panels and peg boards for tool and component storage.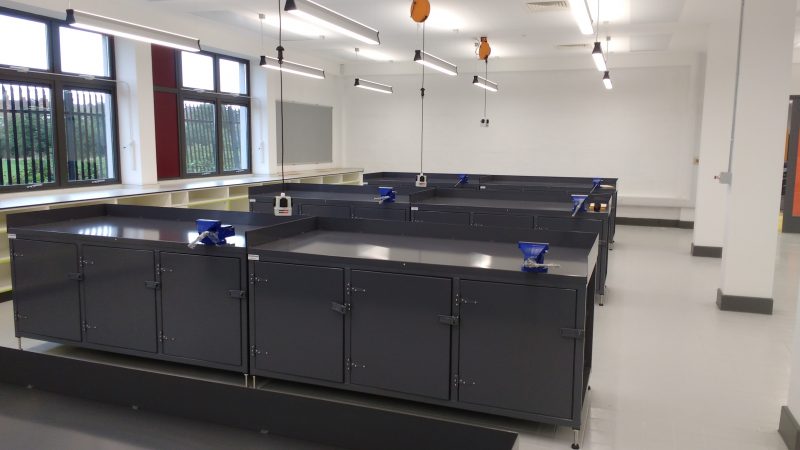 If you're interested in a work bench please contact us
Can the work bench be portable?
Workbenches can be fitted with castors / wheels where appropriate allowing for a mobile workbench. This is a great solution for smaller workspaces, or garage workshops.
One of our customers sent us a message saying how in Summer it's nice to be able to bring their work bench outdoors onto their driveway, rather than being stuck in the garage as they had been previously.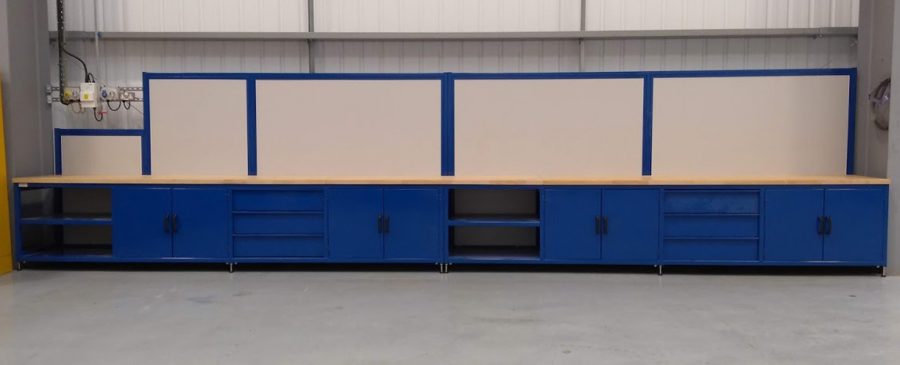 What colour finishes?
The heavy duty benches are available powder coated in colours from the RAL colour chart below.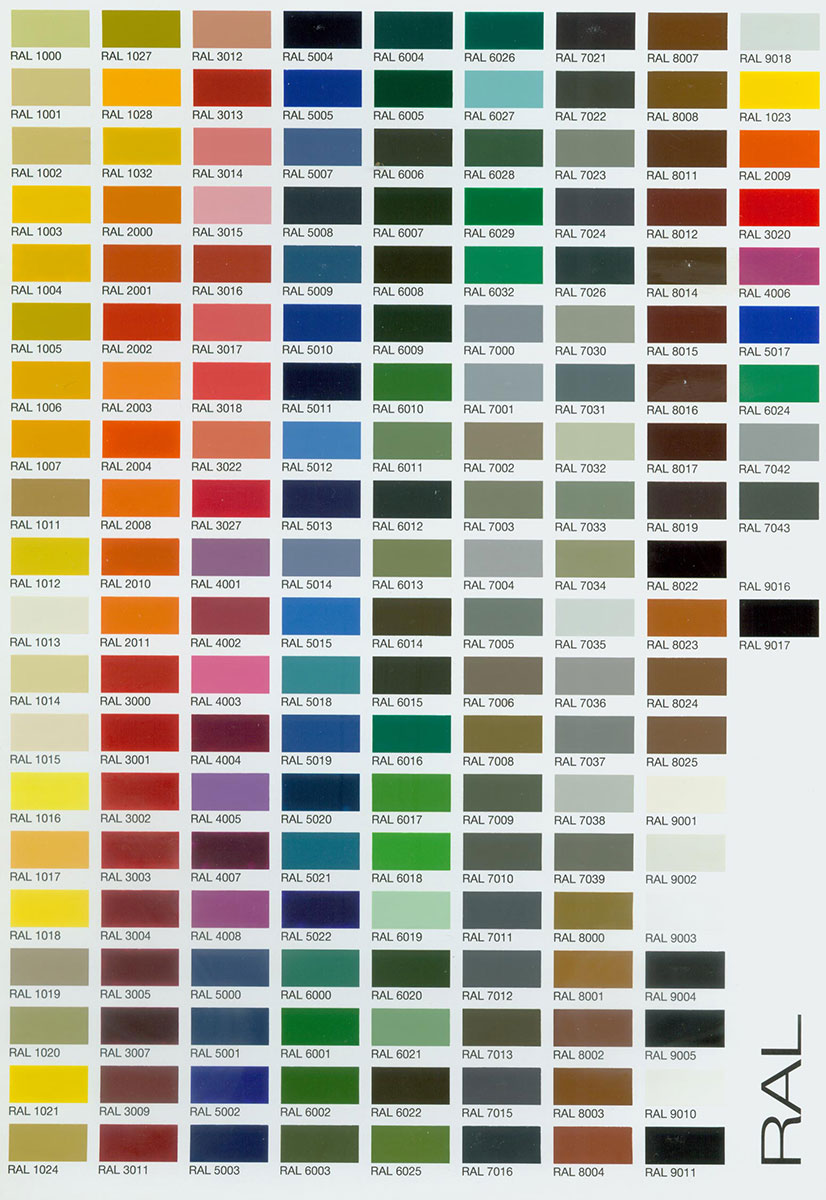 How do I order custom heavy duty work benches?
Whether it is a straight forward bench or a fully bespoke build, we design and manufacture to suit your needs. Our benches are of the highest quality, all manufactured and despatched from our East Yorkshire factory.
Where required we also offer an installation service, as well as independent load testing.
To order a custom workbench, we'll need a few details on the size you'd like, any accessories, and generally what application the bench will be used for. This allows us to ensure the bench we provide is suitable for purpose.
Please contact Spaceguard to discuss your requirements and find out what we can do for you.
If you're interested in a work bench please contact us