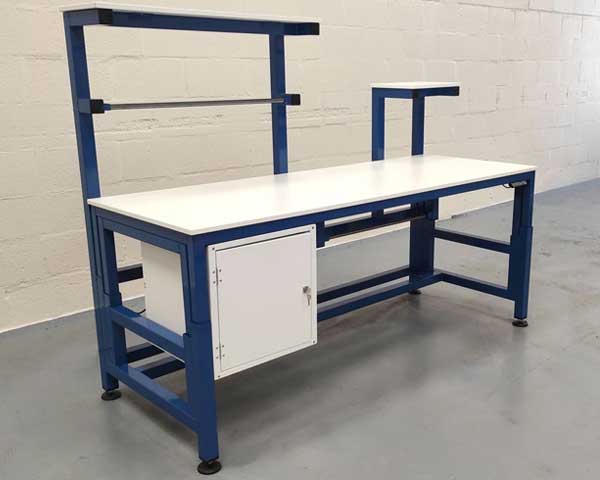 To sit or stand?
Productivity is generally improved when users are standing at an ergonomically designed workstation. However, there are some tasks that do benefit from a sitting position.
Height adjustable workbenches offer the user the flexibility to either sit or stand during their working day. This choice is either based on their comfort or determined by other factors such as the size and weight of the object they are working with.
This type of workbench means that you no longer need two separate workbenches for jobs that require standing and those that require sitting. Height adjustable workbenches are versatile enough to handle both tasks, and everything in between.
The flexibility that can be achieved is also useful if several people use the same workstation. It allows the workspace to always compliment the user's requirements and adapt to their workload, making it perfect for shift-based work
Improve ergonomics with bespoke workbench design
Our range of industrial workbenches and height adjustment workbenches have bespoke process designs with optional accessories to further improve them. From useful bench storage to keep necessary items at hand, to additional lighting, IT equipment, weighing & Automation equipment.
Using height adjustable workbenches in combination with accessories can create the perfect ergonomic area, specifically designed for your workspace process. This will lead to both improved productivity and an increase in the consistency and the quality of your end product.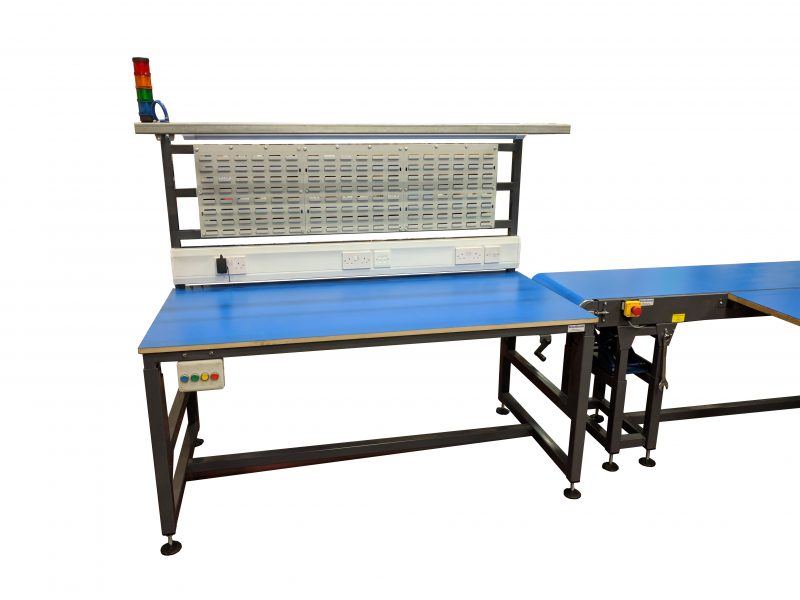 Spaceguard manufacture a range of standard and bespoke, height-adjustable workbench products.
These are ideal for applications where varying heights are required and often used in assembly and testing, educational use, packing or fulfilment processes.
Along with multi-use worktables, we manufacture all workbenches at our UK based manufacturing site.
Spaceguard height-adjustable workbenches are robust and built to last and are ideal for a wide range of uses from simple ergonomic workstations to fully lean process applications.
Our wide range of standard and bespoke manufactured industrial workbenches are designed to turn demanding workspaces into ergonomic productive environments.
Using height adjustable workbenches shows a decrease in absences and improved production due to improved ergonomic positioning.
Bespoke height-adjustable workbenches
Bespoke height-adjustable industrial workbenches offer users the perfect solution for their processes as each of our benches is developed and manufactured to suit your specific needs and requirements.
The heavy-duty ergonomic design ensures the workstations are not only productive but robust and durable. They offer additional benefits such as increased productivity and better ergonomic user position over basic benches.
Simply put, using bespoke workbenches gives increased process profits.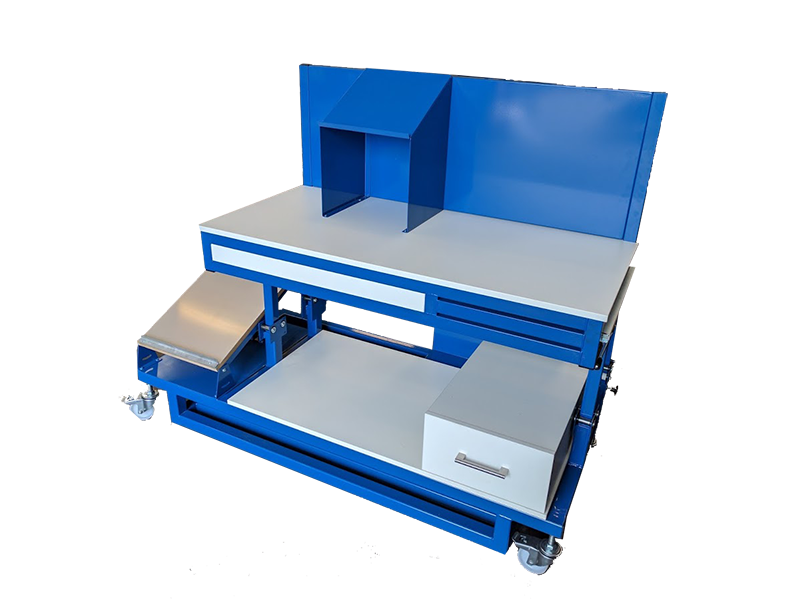 Receive a FREE quotation
Please complete the form below to send a message to our team.
For product and pricing enquiries please include a brief overview of your requirements.