Bespoke Packing Benches UK Manufactured By Spaceguard
In this post we look at some of our previous designs of bespoke packing benches. This is a very small selection of our previous work. To see more photos of our packing benches please see the 'Gallery' section in the menu above.
If you have a design in mind for a packing table or workstation contact us for a free quotation. You can send a photo, drawing, or sketch to illustrate your idea directly to us. Please use the contact form at the bottom of this post.
Simple Storage Compartments
This bespoke warehouse packing bench has a brightly coloured powder coated frame in addition to sturdy storage compartments. With a large worksurface including under bench storage compartments this bench allows plenty of space for packing and also processing returns.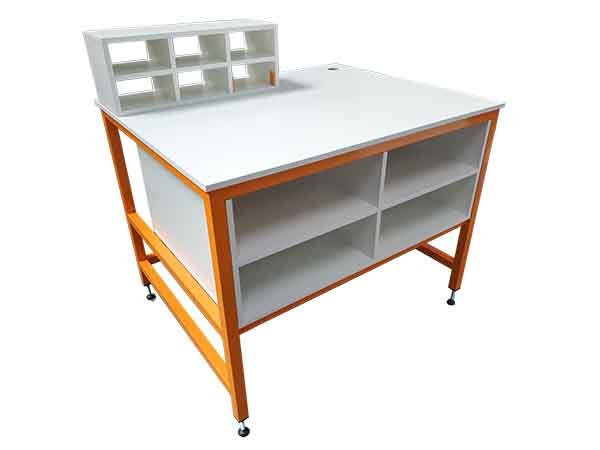 Sliding Shelves
The packing station below features slide out adjustable organisation compartments for keeping things tidy. There is also under bench roll holders, and storage drawers to the side.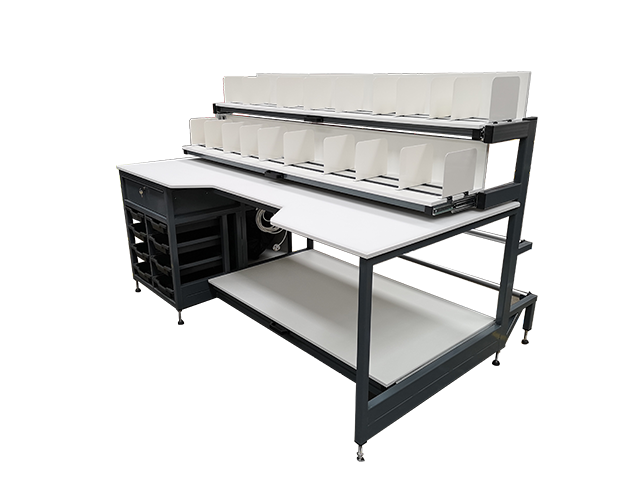 Electrical Options
This warehouse packing station features a monitor in addition to a keyboard arm, roll holders, power sockets, packaging material cutters and also plenty of storage shelves.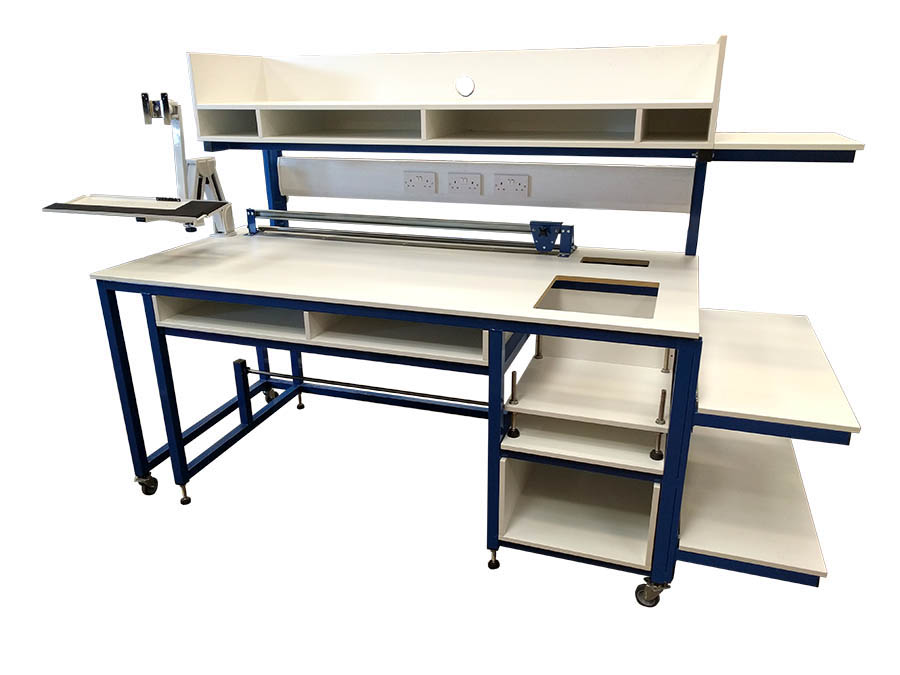 Conveyor Integration
In addition to standard warehouse packing bench designs we also manufacture complete bespoke packing workstations. This workstation includes a weighing station, andon signal lights, packaging storage compartments, storage drawers and shelves. This bench also has a gravity roller conveyor for feeding products onto the station.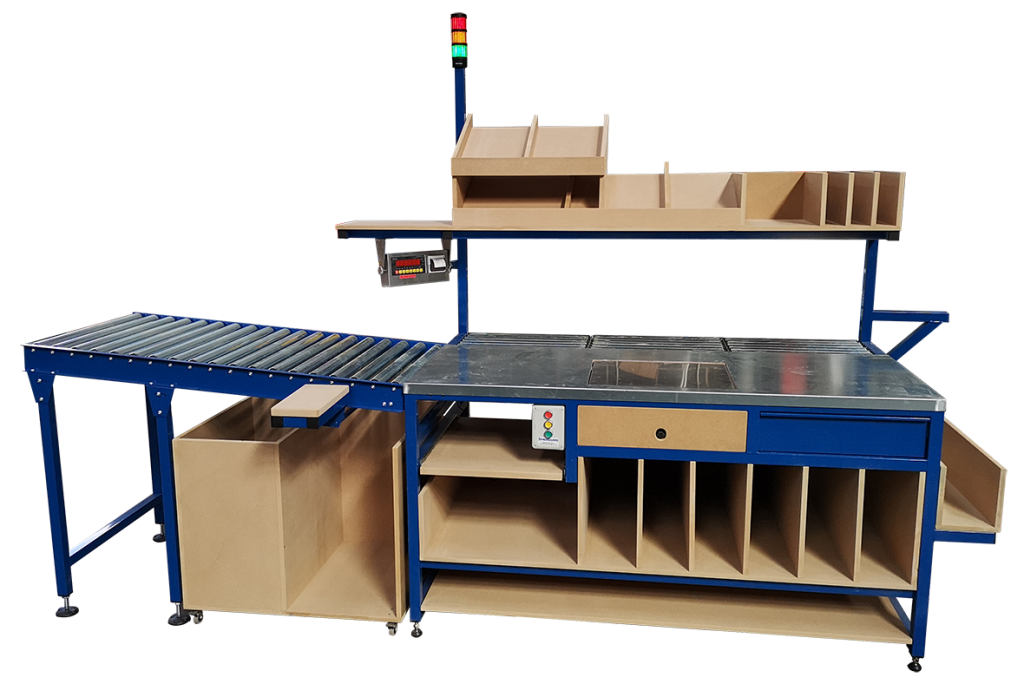 Modular Bench Units
A workbench with wheels can assist in all types of warehouse packing jobs. We also offer trolleys for moving stock or to aid in loading and unloading deliveries. These bespoke packing benches come as 4 separate modules, three of which are on castors offering a flexible working space.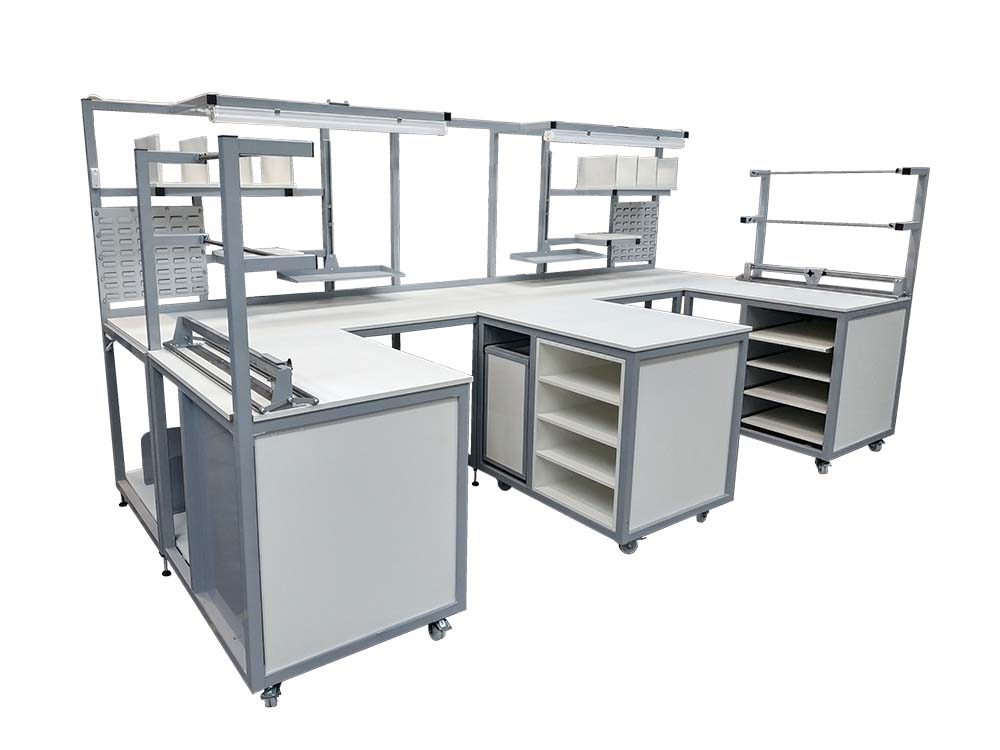 3D Model of Modular Workbench
Please note we manufacture all products to order.
We do not hold stock of any item, everything you see across the Spaceguard site has been made to order to suit the customers requirements.
Make an enquiry
Please use the form below to contact the Spaceguard team with your requirements, Alternatively you can contact us by phone or email.
Phone: 01482 363445
Email: sales@spaceguard.co.uk