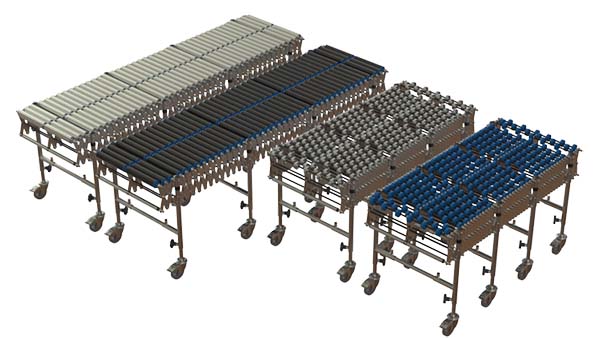 Flexible conveyor
Flexible conveyors offer a versatile and cost effective solutions for applications including vehicle loading & unloading. Along with use with packaging and assembly lines which need to be reconfigured due to space restrictions.
These roller conveyors are ideal for reducing turn around times. Whether you require them hourly to load packaged items on vans or as part of your production process. The flexible conveyor offers increases in efficiency. Whilst having the benefit of re-configuration and space saving when closed up for storage.
The features of a flexible / expanding conveyor include:
- Ability to manipulate into 'U' or 'S' shapes.
- Self tracking. Boxes follow the profile of the conveyor around bends etc.
- Adjustable height legs. Allowing the conveyor to be run as a horizontal and also a decline conveyor.
- Swivel lockable castors. The 127mm diameter castors allow easy conveyor movement. With wheel locks stop conveyor
- End stop. Can be fitted to the end of the conveyor to prevent the boxes exiting conveyor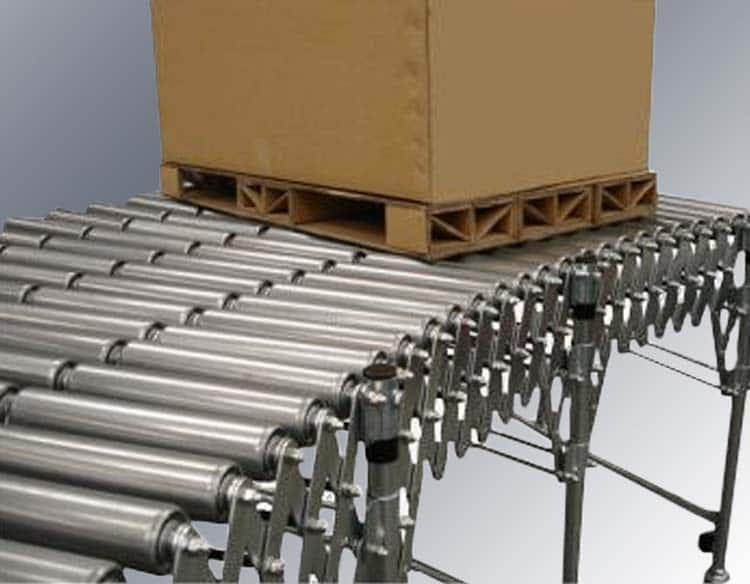 The main feature of the flexible / expandable conveyor is that it can be moved easily and positioned within minutes. Simply wheel the conveyor into position, expand it out, straight or around bends. As you require.
This flexible conveyor is manufactured using a lattice side frame, which enable it to be stretched out around corners with ease. The conveyor can be used either on their own, and also to connect existing solutions in warehouse despatch areas, shops or assembly lines.
Flexible conveyors are designed for transporting parcels. With roller options including plastic skate wheels, PVC conveyor rollers or zinc plated rollers. Together with build options for standard duty gravity roller, heavy duty gravity and driven roller.
Spaceguard manufacture and supply a wide range of roller and belt conveyors.
From a one off parcel handling module to a fully integrated food handling production conveyor system. Making Spaceguard an ideal partner for your incorporation and full turn key conveyor, storage and workstation requirements. Our sales team has in depth experience of a multitude of industries and their specific requirements, they are able to offer you any advice you may require.
Please contact our sales team to discuss your requirements.
Phone: 01482 363445
Email: sales@spaceguard.co.uk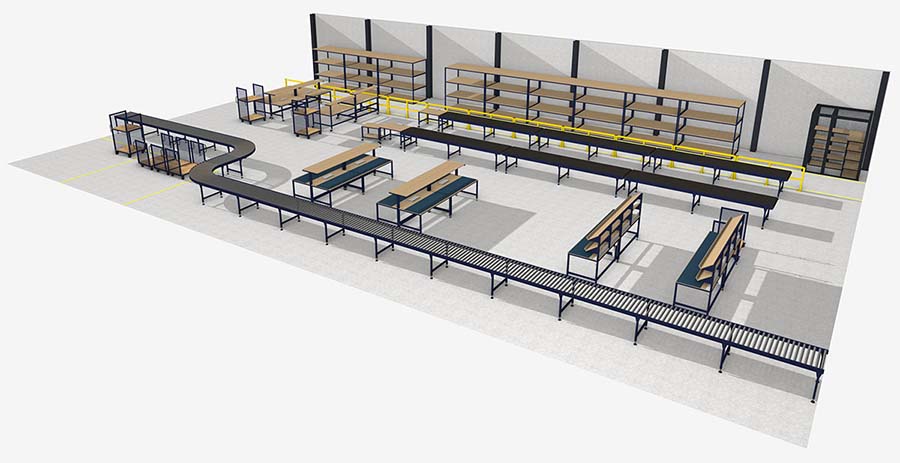 Flexible / Expandable conveyor terminology
C)
Caster: Swivel lockable wheels fixed to the stands for easy conveyor movement.
Connecting hooks: Used to fix the conveyor to the next unit or conveyor.
E)
End stop: Fitted to the out feed end of conveyor to stop boxes
L)
Lattice: The steel expanding side frame section.
P)
PVC Roller: Full width roller with 50mm diameter PVC tube. Suitable for larger light packages.
S)
Skate wheel: Low inertia wheel for free lower product weight conveying.
Steel roller: Fully width roller with 50mm diameter mild steel zinc plated tube. Suitable for heavier loads.