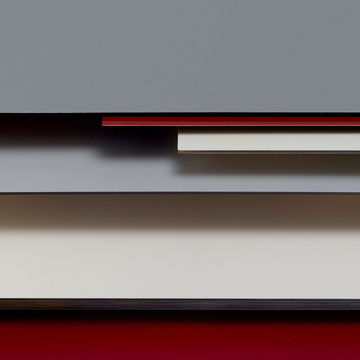 (ESD) Electrostatically dissipative worktop complete with high-pressure laminate, with durable melamine resin surface and sanded reverse.
Ideal for: workstation worktops in ESD areas, e.g. at production and assembly workstations in the electronics industry. Also in areas where electrostatic charges are to be prevented, such as on production lines, in laboratories or control rooms.
Product standard
Manufactured to EN 438-3:2016
Volume resistance RD
1 x 104 – 1 x 1012 Ohm
Measured dry, measurement voltage 100 V DC, cylindrical electrode, 20-30 °C and 20-50% rel. humidity (96 h conditioning)
Product safety
The decorative surface and the core consists of paper layers that are impregnated with thermosetting resins. The resins harden completely during the manufacturing process by heat and high pressure. They form a stable, resistant and non-reactive material.
Cleaning and care
The surface can be cleaned with water and gentle cleaning agents.
The use of cleaning products, cloths, sponges with abrasive ingredients, should be avoided.
For removal of particularly stubborn stains, industrial cleaners suitable for plastic surfaces can be used. Before use we would recommend testing in a small, hidden area.
The impact of water and cleaning agents should be limited to a short time period, drop quantities and standing water should be avoided. Please wipe the surface with a fluff free cloth allover and efficient dry.
For more information click here