Conveyor belts are well known and their usage is widespread. Following on from our last post on the types of conveyors, here's an in depth guide to the different types of belt conveyors and why they are so popular.
Conveyor Belt Systems
What Are Conveyor Belts?
Conveyor belt systems are mechanical devices that transport objects, they are common throughout all industrial applications. They are commonly seen throughout most material handling industries for transporting bulk materials.
Conveyor belts consist of a continuous loop of belt that is wrapped around and driven by one or more pulleys (known as drums) and powered by an electric motor. The belt is supported either on rollers or a metal plate bed underneath the belt. The pulley that is powered is called the drive pulley, whilst the unpowered is known as an idler pulley.
The main frame construction of a belt conveyor usually consists of a metal, this could be powder coated mild steel or stainless steel for example. The belt or conveyor surface belting itself is available in a wide range of materials, such as plastic, leather, rubber, or coated fabric. Usually the belt is manufactured from several layers of material, the structural or strengthening layer of which is known as a carcass. For example, in fabric coated belts cotton is often used for the carcass, whilst the cover material might be PVC.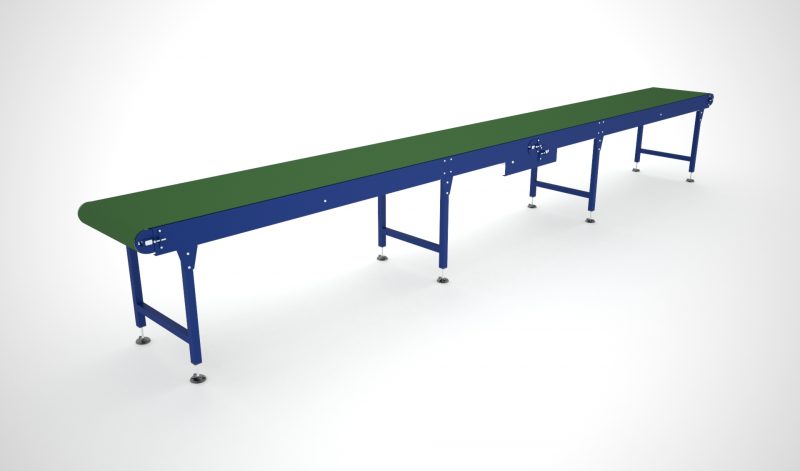 Why Are Belt Conveyors Used?
Conveyor systems are popular due to their time and labor saving benefits. By the use of a conveyor system, the manual handling of materials is reduced. This results in the much more efficient transport of large volumes of goods, and allows for higher volumes to be processed. The use of conveyors can also be space efficient, as less space and personnel is needed to move the items. For this reason, conveyors are often used for transporting products between stations in production and processing lines. 
Some industries and businesses may require only part-time or occasional use of a belt conveyor, a landscaping company or builder for example may need to hire a belt conveyor to clear their worksite more efficiently.
The belt conveyor system is also very versatile and can transport a wide range of objects, of all shapes and sizes. It is also generally less expensive than other conveyor systems. Conveyor belts are also useful in instances where the use of a roller conveyor system for example would be unsuitable due to items being too light, having irregular bottomed surfaces, or being too small. Consequently, these items may not move, could slip, or even get stuck in the rollers. 
Environments where you might find belt conveyors:
Mail sorting, Packing, and Parcel Depots
For fast distribution of products
Mines
To move coal, ores, or salt
In Airports
Used in baggage handling
Paper mills
To transport wood chips or pulp
Farms
For moving crops, grain, or bales
Warehousing & Distribution
To transport stock to and from delivery area
Waste & Recycling Centres
For sorting refuse
Foundries
When transporting sand, and used in shot blasting
Production & Manufacturing
For moving parts, stock, or dispatching goods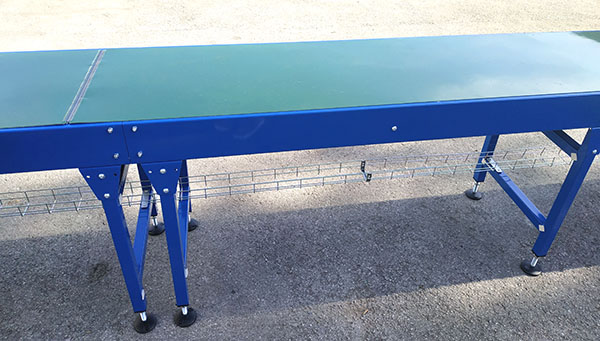 Belt Conveyor Specification
The specification of the belt conveyor is dependent on the application, industry, and product type. Manufacturers of bespoke and custom belt conveyor systems will ask about what the end usage of the conveyor will be, this is to ensure the conveyor system is built to suit that application. Things you should consider are the maximum load capacity, the conveyor belt system speed, throughput, the frame material or shape, and drive configuration. 
As well as this the type of product or material to be conveyed must be considered. Conveyor belts for the food industry for example must be suitable for washdowns and disinfecting. These conveyors often have a blue belt material, to denote they are washdown suitable which is a requirement of food hygiene laws. The belt surface itself also needs to be resistant to scratches or damage, as that could harbor bacteria. 
Another consideration for your belt conveyor supplier is static electricity, as conveyor belts can generate static as they travel around the pulleys. Where static sensitive components are being conveyed, this could be harmful to the product. The belt conveyor in this case would have to be manufactured with anti-static technology, for example conductive belting, or static control brushes. 
Some items are sensitive to vibration, pressure, or are hazardous materials. These should be discussed with the conveyor manufacturer so they can counter risks, thus ensuring the conveyor designed is fit for purpose. 
The environment the conveyor will be running in is also important as humidity or temperature can affect operation, so the conveyor needs to meet certain specifications to be able to continue optimal performance. 
What Are The Different Types Of Belt Conveyors?
Whilst most people are familiar with the standard horizontal conveyors, as seen in supermarkets, there are many other types of belt conveyors manufactured to suit specific applications.
Belt conveyors are available to suit all environments and applications. Belt conveyors can be manufactured to be able to transport goods around corners, whilst incline belt conveyors can transport items between differing height levels. They are also built to suit their industry application. For moving products across short distances or within buildings, a general material handling belt could be used. For farming, mining, and other industries that produce large quantities of materials, a bulk material handling belt would be required. Whilst belt conveyor systems can seem quite complex, many of the conveyors can be seen in a modular sense, so it's a case of building a complex system from relatively simple components. The key thing is to partner with a conveyor manufacturer or supplier who understands your industry and applications, working environment, and products, so they're able to piece together the perfect belt conveyor solution.
Modular Belt Conveyors
A modular belt is made up of chains of interlocking plastic pieces which allow for the belt to move around corners and bends. It is useful as it allows for a wide variety of products to be conveyed. Items with sharp edges for example are unlikely to damage the modular belt in comparison to standard fabric based belts. It also allows for liquid to drip through the conveyor when dealing with wet products or for when the conveyor needs to be cleaned. This makes them especially suited to food production line conveyors.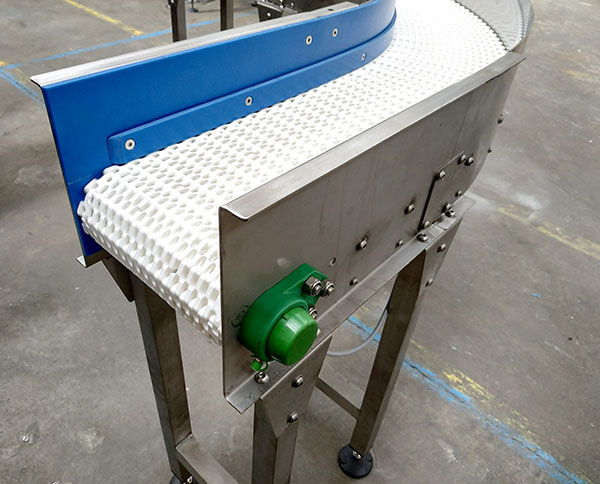 Slat Conveyors
These are similar to a belt conveyor however it uses slats or plates on roller chains to transport goods. They're primarily used for the transportation of heavy or large objects. A slat conveyor is purpose built to suit much more hard wearing applications, where a standard belt would not withstand heavy duty use.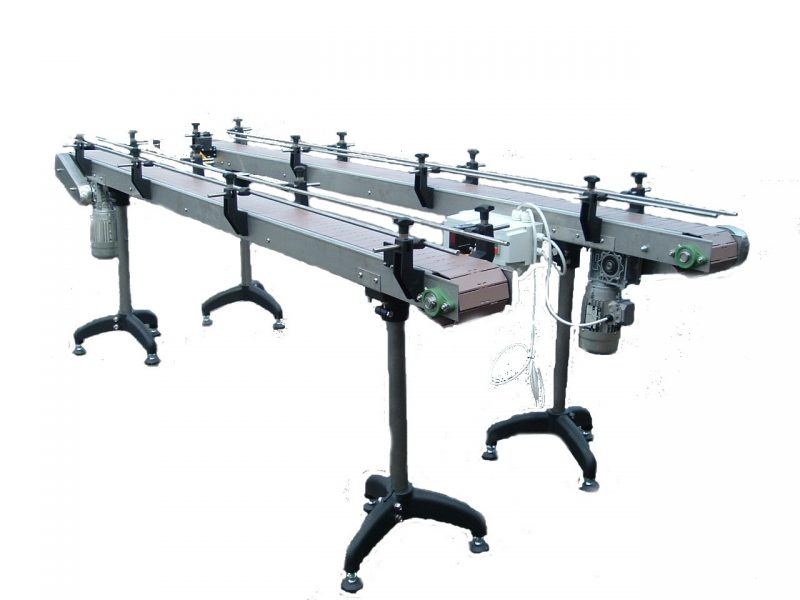 Portable Belt Conveyors
Portable conveyors are useful to aid in loading and unloading vehicles, railcars, and silos. Packaging facilities also make use of conveyors with casters, allowing them to be moved as required. Elevator or incline belt conveyors can also be used to elevate materials. These have spaced partitions with shelves or buckets that the material rests in, these allow for the conveyor to carry the material upwards.
Swan Neck Conveyors
This is an example of an elevator belt, this is often used to carry items upwards into a hopper or delivery system. As these conveyors are built on an incline, they can also be used to create a bridge in the conveyor system.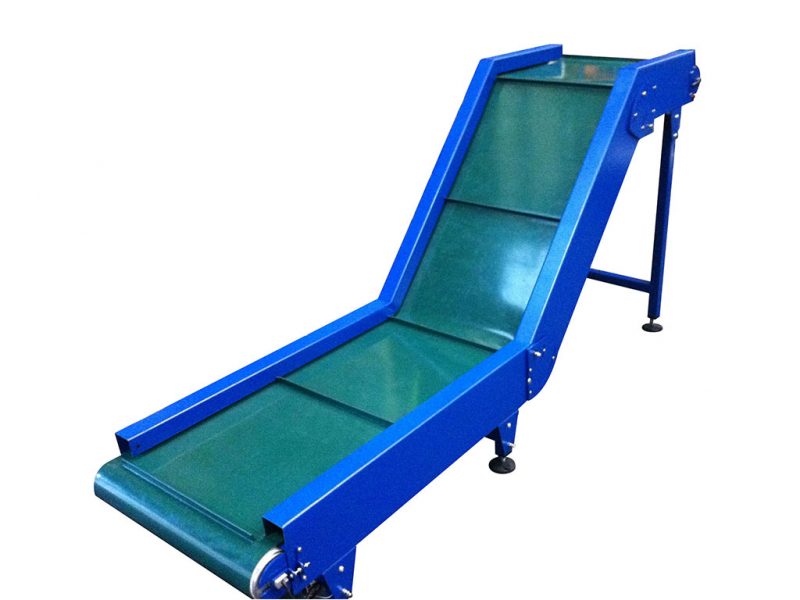 Metering Conveyors
This is a type of conveyor belt which allows for the separation or accumulation of items. This is often used prior to sorters and merges in the conveyor system. As the items are separated, they can then be assessed using sensors to determine the items width, or to allow space in between items if a minimum gap is required for the next step of the sorting process. These metering conveyors must be made with durable components to withstand many stops and starts. The products can also be weighed with the inclusion of a beltweigher into the conveyor system.
Sandwich Belt Conveyors
These differ from the standard design in that it uses two conveyors as opposed to one. These two belts are placed face to face, allowing for the material being transported to be held (or sandwiched) firmly in between them. This allows the material to travel up steep inclines.
Pipe Conveyors
Pipe conveyors have a belt which rolls together to form a tube or pipe, this is achieved by the use of idler rollers around the outside of the belt to maintain the circular shape. A pipe conveyor is desirable for environments where space is extremely limited, or relatively steep inclines or bends are required. They are used in industrial applications where material spillage is undesirable.
Troughed Belt Conveyors
Troughed conveyors have a belt which is shaped in a trapezoid (or trough) like manner. It has these edges to ensure the material is contained. Similar to the pipe conveyor, the idlers are what allow the belt to keep it's trough shape due to their angled placement.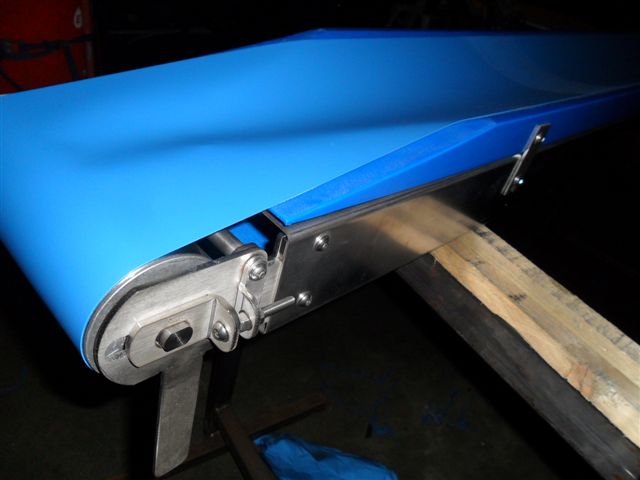 What About Conveyor Safety?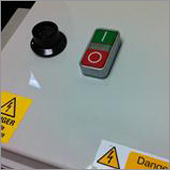 Conveyor systems have different safety requirements depending on the environment they're used in. The belt conveyor manufacturer should be able to ensure that any risks are properly accounted for, and any workplace safety regulations are adhered to.
Industrial belt conveyors should be fitted with start-stop buttons, they can also be set up with remote stops. They can also have belt sway switches, which will stop the conveyor if the belt loses alignment. If the belt conveyor is moving at a speed other than what has been specified, a speed switch can stop the belt to ensure the users, products, and the belt itself do not become damaged. In addition a belt rip switch is triggered if the belt does become damaged. For moving goods on an incline, guards must be fitted to ensure products remain on the conveyor system.
Conveyor systems controls can be as simple as on and off, or soft-starts which cushion loads on start up. Variable frequency drives are also available to control the speed and acceleration of the motors.
History & Facts
1892 - Thomas Robins' inventions led to the development of conveyor belts.
1913 - Conveyors were introduced into the Ford Motor Company factory by Henry Ford.
1972 - The longest conveyor belt system in the world at 61 miles / 98 km was built by Friedrich Krupp GmbH.
2008 - The longest airport conveyor system was commissioned, it was installed by Siemens at the Dubai International Airport and measures 39 miles / 63 km.
If you are interested in a conveyor system from Spaceguard, you can find our belt conveyor products page here. Please feel free to contact the helpful Spaceguard team if you have any questions regarding our products.