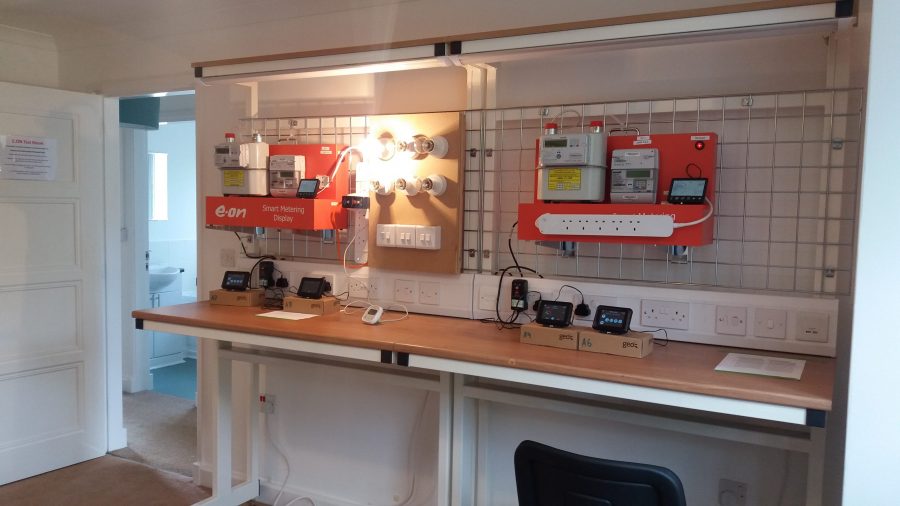 Cantilever workbenches follow an alternative design than that of regular industrial workbenches.
Whilst standard industrial benches are supported by two vertical legs either side, as a traditional table. The cantilever workbench design refers to the construction position of the supporting legs.
This design allows more under-bench access and maximises leg room. This also makes cleaning easier, which is ideal in areas that value high levels of hygiene.
The aesthetically pleasing construction does not compromise on performance. Cantilever workbenches can be built complete with most standard workbenches' capacity and durability. This design of workbench is widely used within the electronics industry, as so Spaceguard manufactures full ESD versions of this product.
Dependent on the work carried out on the workbench, a choice of worktops are available including, Laminate, MFC, Linoleum, Beech, Trespa or simple MDF.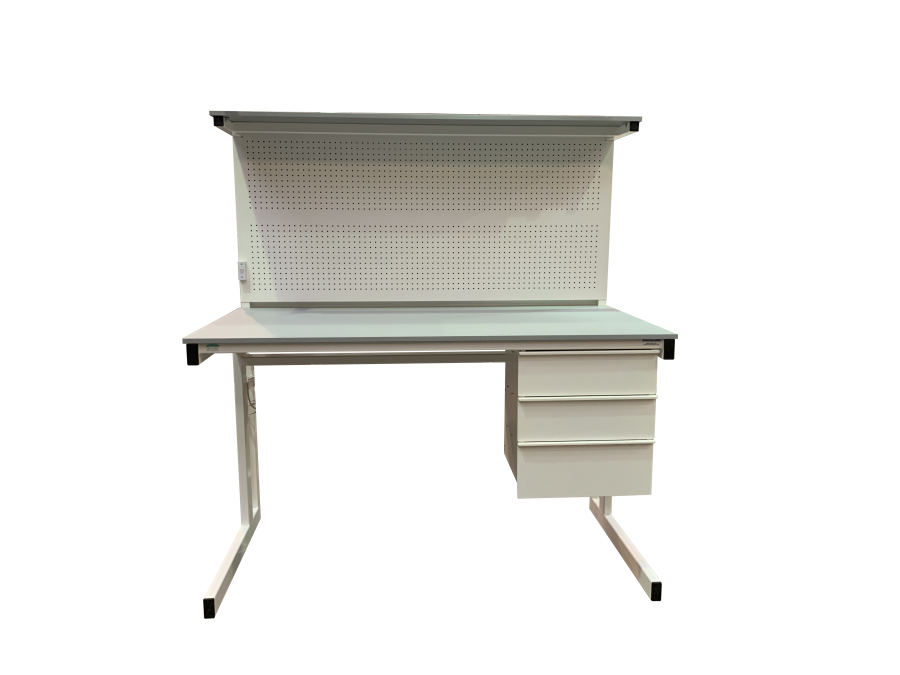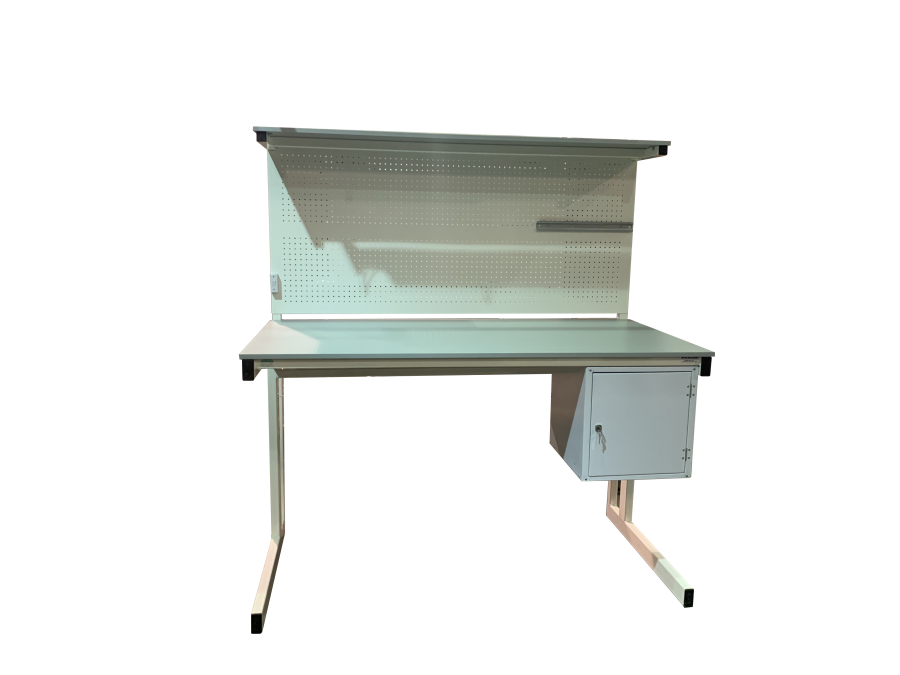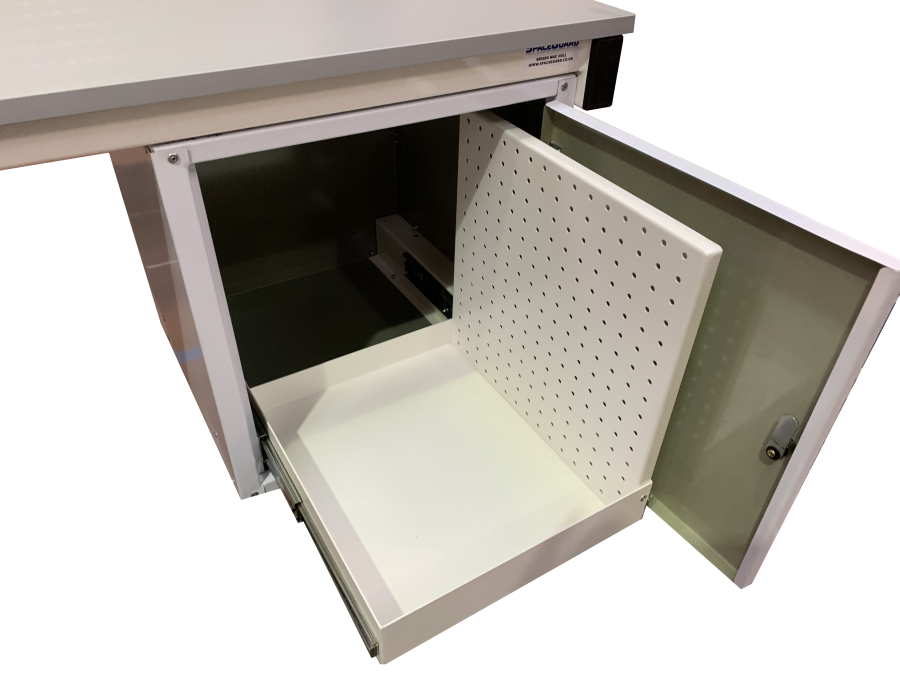 Standard Cantilever Workbench
Built to the usual Spaceguard high quality and robust design. The welded design standard cantilever bench is delivered to site. Fully assembled and ready for work.

Cantilever construction allowing maximum leg room.
Height adjustable for easy leveling.
Powder coated framework to colour of your choice.
MFC, Linoleum, Laminate, Trespa, Polyethylene, MDF  and Solid Beech worktop available.
Full range of options available including drawers, cupboards, shelves, louvre panels, electrical sockets and pneumatics.
Size and heights manufactured to your specifications.
Delivered fully assembled "Ready for work".
Designed and manufactured in the UK by Spaceguard.
Workshop bench weight load: Built to suit your requirements.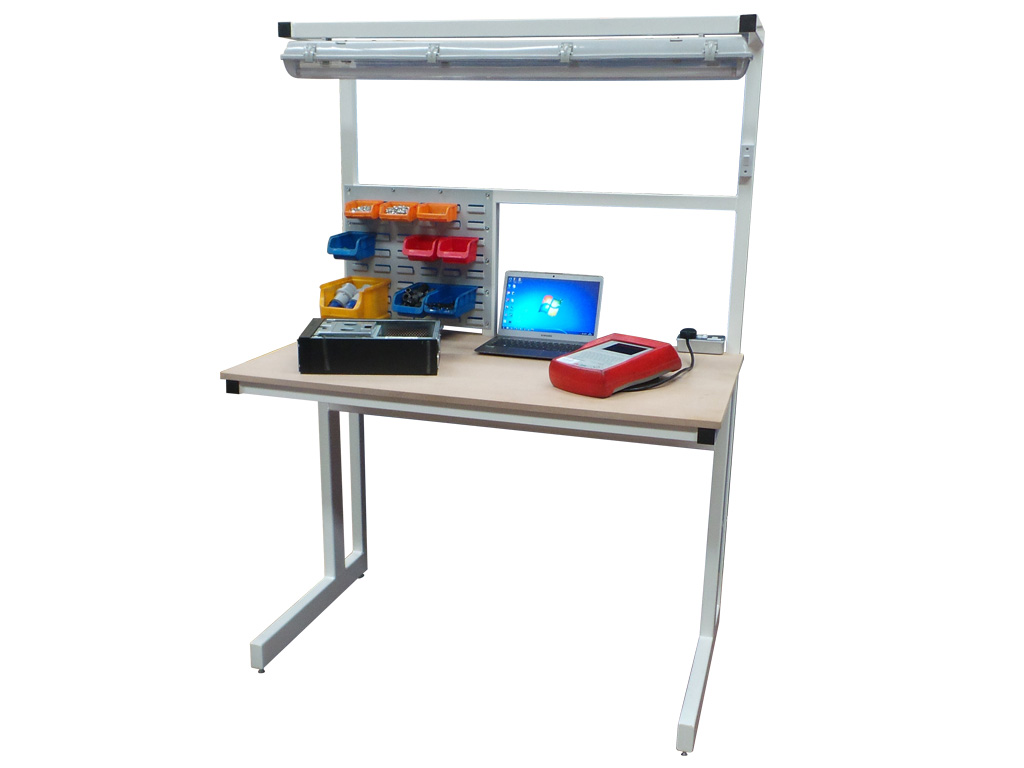 ESD Cantilever workbench
ESD Cantilever workbenches combine the extra leg room of a cantilever design with the static dissipative properties of an ESD bench. Giving you the benefits of both. The ESD workbench range is suitable for assembly or repair areas within the electrical and electronic sector. The cantilever design ensures there is room underneath the workbench for staff to sit comfortably, whilst also offering the benefit of keeping the floor more open. Easier to clean and tidy. Worktop options include base material with ESD Laminate, ESD matting or Anti static polyethylene.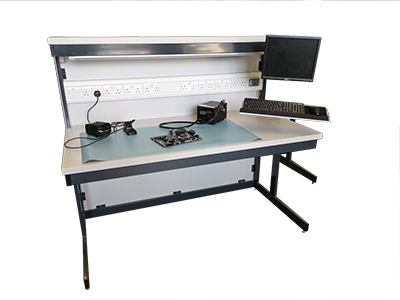 Suitable for use as an assembly or repair bench in the electrical and electronic sectors.
Cantilever construction allows for maximum leg room.
Durable powder coated welded framework.
Lamstat – Laminate worktop worktop option.
Full range of ESD accessories available including louvre panels, anti-static floor matting, ESD seating and circuit breakers.
Size and height to suit your specific requirements.
Delivered full assembled "Ready to work".
Designed and manufactured in the UK by Spaceguard