Getting the right conveyor for your business doesn't have to be difficult
Conveyors come in a wide range for a large variety of industry applications. The type of conveyor chosen needs to be just right for your production and transport operations.
Whether you're just starting out your business, or expanding your existing conveyor systems, sometimes it's difficult to know exactly what conveyor would be best for your situation.
Here is a handy guide to help you decide on the best conveyor product to suit your needs.
Belt or Roller Conveyor, which one is better?
This is a common question and really depends on the intended use of the conveyor and the items that will be placed upon them. Below is a brief summary of the differences between the two types of conveyor.
Roller conveyors are suitable for transporting items with a flat rigid bottom
The reason for this is that items can get stuck between the rollers if they are not rigid. This makes roller conveyors unsuitable for loose materials, bags and packets. The items also have to be large enough to sit across several rollers otherwise the product will not move as desired.
The types of items commonly transported on a roller conveyor include:
Cartons
Trays
Totes
Boxes
Pallets
Crates
Roller conveyors are commonly found in airports, warehouses, factories, and assembly lines. Find out more on the roller conveyor products page, or alternatively check out our 'What is a roller conveyor?' article.
Belt conveyors are suitable for transporting a wide range of items, they are one of the most versatile types of conveyor available
As the belt is a flat surface it does not matter so much about the size of the product, belt conveyors can transport small items or loose material with ease. One thing to consider however is that sharp or extremely heavy items may cause damage to the belt.
The types of items commonly transported on a belt conveyor include:
Food & drink items
Packets & bags
Loose materials
Packaged products
Belt conveyors are commonly found in farming & mining industries, supermarkets, greenhouses, factories, warehouses, and e-fulfilment centres. Find our more on the belt conveyor products page, or see the 'What is a belt conveyor?' article.
Types of Belt Conveyor
Belt Conveyors
Belt conveyors are ideal for the powdered transport of both uniform and non uniform loads. Normally the conveyor belt is powered by a geared motor or drum motor, powering a pulley. They have an idler roller at the opposite end, and a continuous belt connecting the two. These types of conveyors are ideal for use in packing and assembly lines. The belt allows for different sizes and weights of goods to be transported at the same time. For this reason, belt conveyors are ideal for e-commerce sites with varying products.
Belt Conveyors also have a number of varieties to suit their purpose. For example, the Swan Neck belt conveyor can be used to transport products upwards. A mezzanine inclined belt conveyor system is also used for transferring goods between two floors.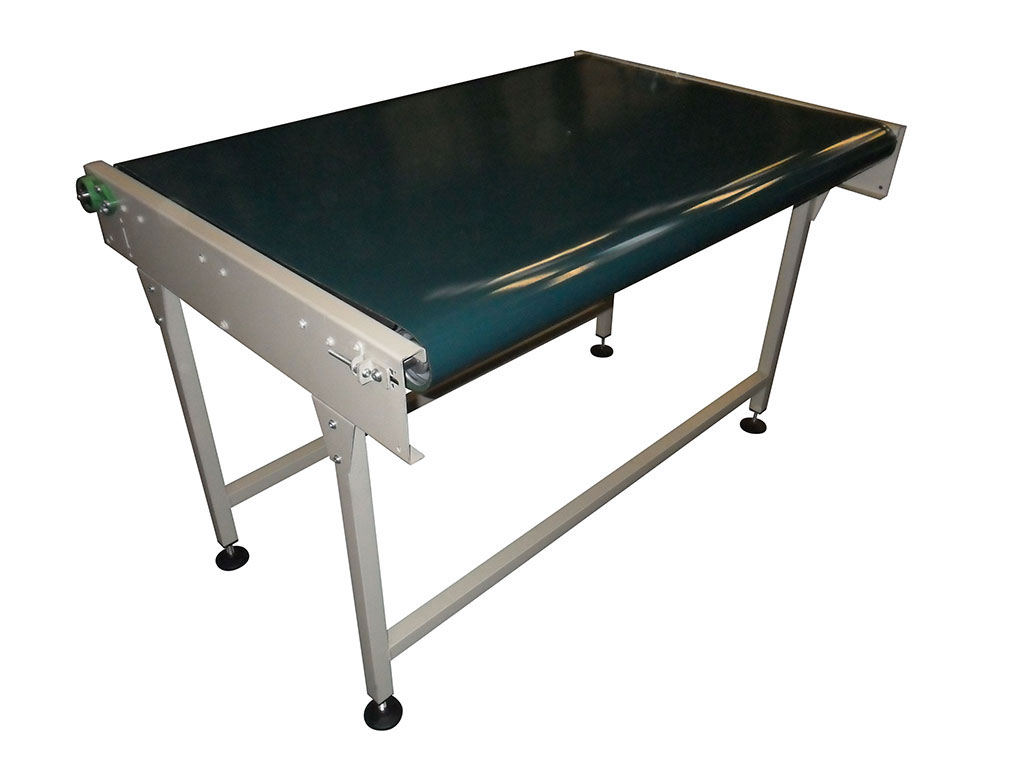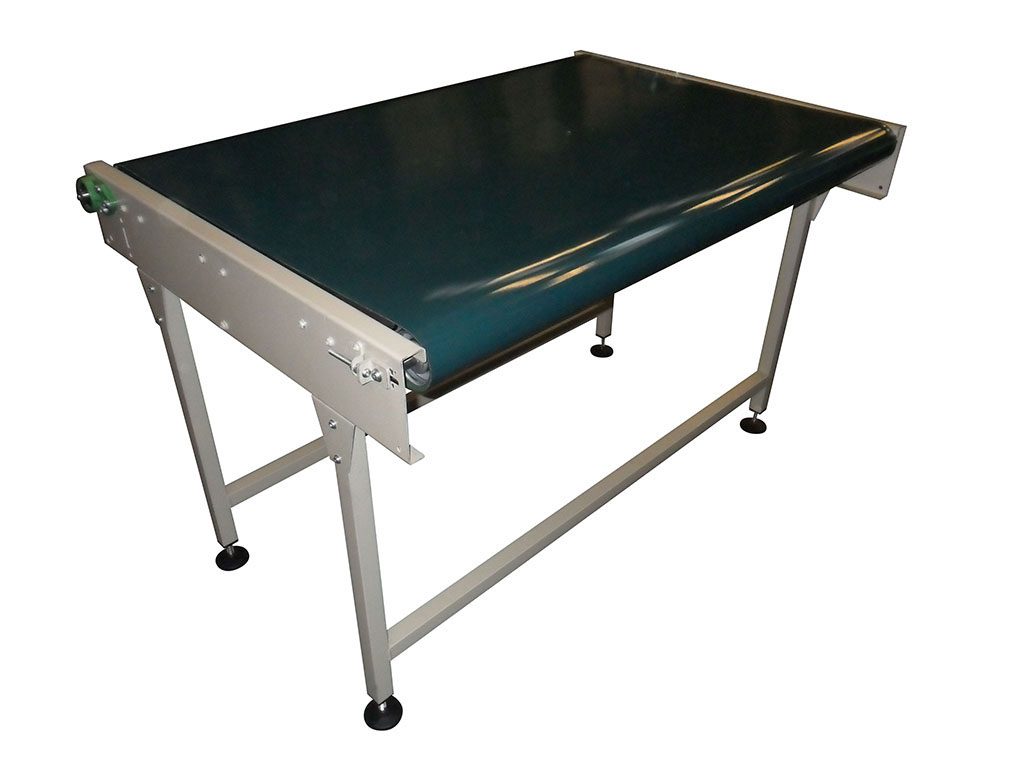 The materials used for the belt conveyor are important. Belt conveyors for use in food production for example are made with stainless steel frames, with a belt material suitable for wash down. The ability to keep the conveyor belt hygienic is of the utmost importance.

See the section below on Modular Belt Conveyors for more information.
Modular Belt Conveyors
A traditional belt conveyor has a flat belt made out of one piece of material. A modular conveyor belt however is made from an interlocking plastic mesh material. Unlike belts that rely on friction, the modular belt is positive driven by engagement with a series of sprockets underneath the belt.

Modular belt conveyors are an extremely robust solution for most transport applications. The belts are hard wearing. With the correct specified material, they are widely used for transportation of sharp edged products making them ideal for boning lines. The easy to clean design, is the ideal solution for direct food applications. Or areas where chemicals are used. By design, they are ideal for conveyor belt solutions that require corners.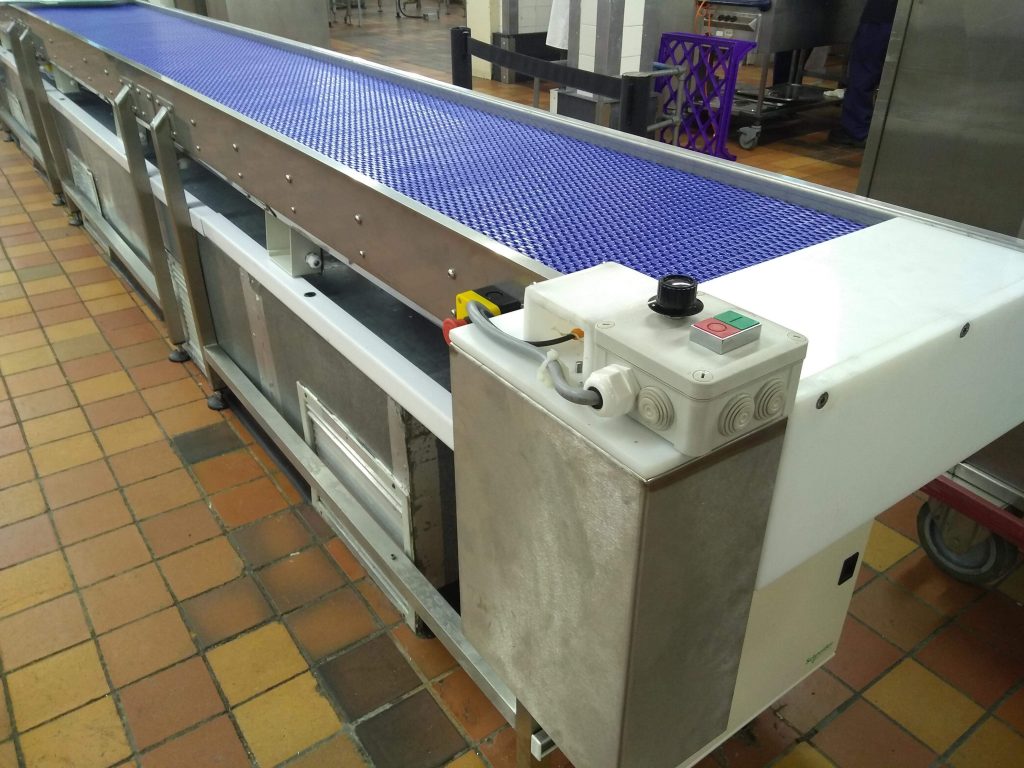 Please click here to see more examples of modular belt conveyors.
Types of Roller Conveyor
Gravity Roller Conveyors
Gravity conveyors use the force of gravity to allow products to move down the conveyor line which is set at a gradual decline. If the items aren't heavy enough then the rollers will not move, and may need to be pushed. However, if the items are too heavy then braking will be required to stop products flying off the conveyor!

Similarly, unpowered conveyor rollers can be integrated into other products, such as storage racks and workstations, allowing for easier movement of large volumes, or heavy items.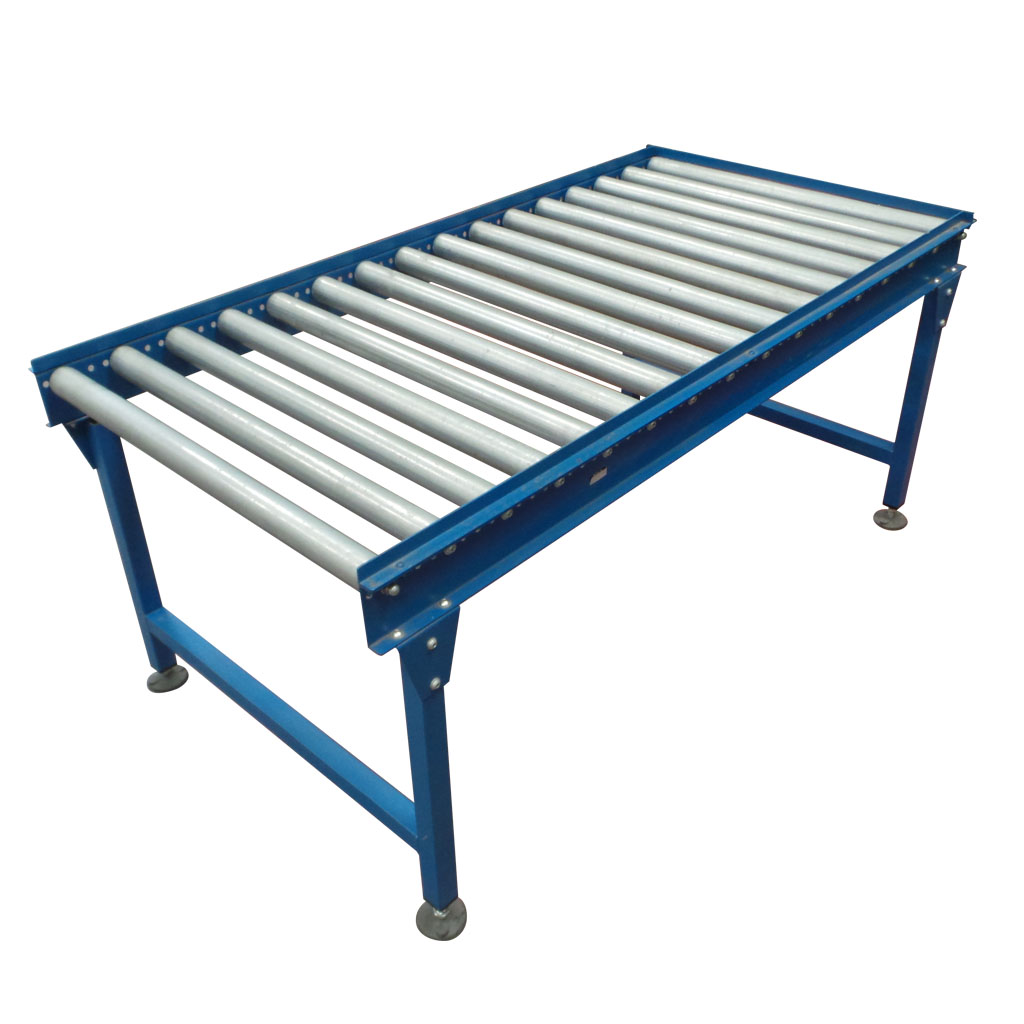 Spaceguard manufacture roller conveyors to suit all applications, and can integrate them into our popular packing and industrial workbenches. To see more examples, please click here.
Driven Roller Conveyors
These driven roller conveyors are powered and available in two variations; the Fixed drive conveyor, and the Zero pressure accumulation conveyor.
A Fixed Drive Conveyor uses 24-volt self-contained motors to drive groups of rollers, to transport products down the conveyor. With fewer moving parts than traditional motors, the 24 Volt driven conveyor requires less maintenance and is safer for users.
A Zero Pressure Accumulation Conveyor is a 24-volt powered conveyor which uses photo electric cells and zone control cards to hold products in place along the line until the zone in front of them is clear.
To see further examples of Powered Driven Conveyors, please click here.
Flexible Conveyors
The flexible and expandable type of conveyor are extremely useful for environments lacking in space. Due to the concertina / lattice frame, they can opened for use giving a long, bendable conveyor track. As they come on castors, they can then just be closed and simply rolled away for storage. They are often found in use for loading/unloading deliveries as they can be configured incredibly quickly.

Flexible, expandable conveyors are available with either rollers, or skate wheels. We supply these in either PVC, or bright zinc plated steel. In many cases unpowered ones are used however in some cases powered options are available.
To see more information about our Flexible / Expandable conveyors, please click here.
What if I'm still not sure what type of conveyor I need?
No problem. Here at Spaceguard, we have in depth experience of all the different conveyor types.
We manufacture conveyors as both standard, and also to customer specification. If you have seen something on our website that might be your ideal conveyor solution but you're still not sure, get in touch and we can advise you on the best way forward.

You can contact us by phone on: 01482 363445
By email: sales@spaceguard.co.uk
Or alternatively you can fill in the short form below to send our team a direct message.
Contact Spaceguard for product advice and quotations